Yazd! The city of Qantas, wind-towers, and mud-brick houses.
The historic city of Yazd is located in central Iran, Desert area, between Dasht-e Kavir and Dasht-e Lut. Hence, its weather is quite cold in winter and very hot in summer. It was listed as the UNESCO World Heritage site in 2017, due to its special architecture and valuable historical monuments. It's thought to be the first clay city and the second historical city in the world.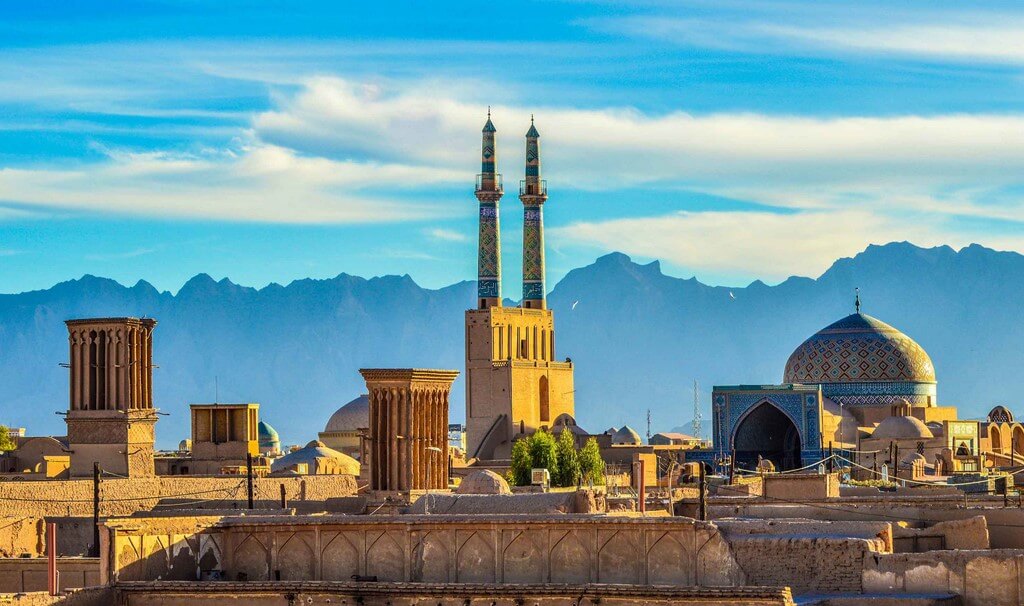 The city is well-known for its tall wind-towers (Badgirs), mud-brick houses, atmospheric alleyways, Termeh (traditional brocade), and various sweets like Pashmak, Baghlava and Ghotab. Walking through the alleys of Yazd and watching the sunset and the city's whole view from the rooftop of the houses is a pleasure experience which made Yazd as a "don't miss" destination for all travelers who visited Iran .
Jameh Mosque 
The Jameh mosque of Yazd is the brilliant heritage of Iranian art and Islamic architecture. Originally it dates back to the Sassanid Era and has been changed a lot during different periods. The surprising features of the mosque include the astonishing Ilkhani dome, two 48m-high minarets, tiled entrance portal related to Taymoorian era, and inscriptions of the 15th century.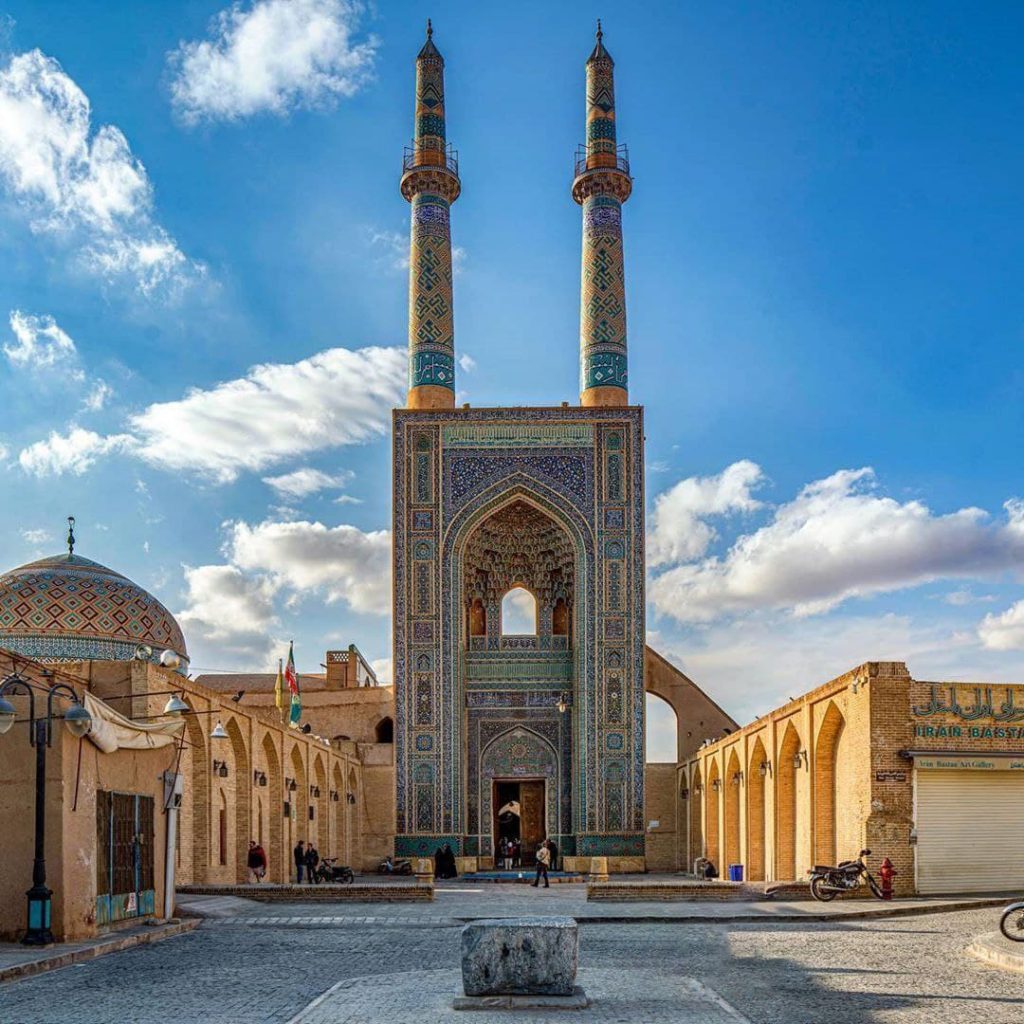 Amir Chakhmaq Complex
Amir Chakhmaq complex is one of the most dazzling attractions of Yazd which is known as the symbol of the city. It was constructed by the order of the Timurid ruler of Yazd, Amir Jalal Addin Chakhmaq. This ancient complex includes several impressive structures such as the square, mosque, bazaar, caravanserai, Tekyeh and water storage that are all registered as National Heritage Sites.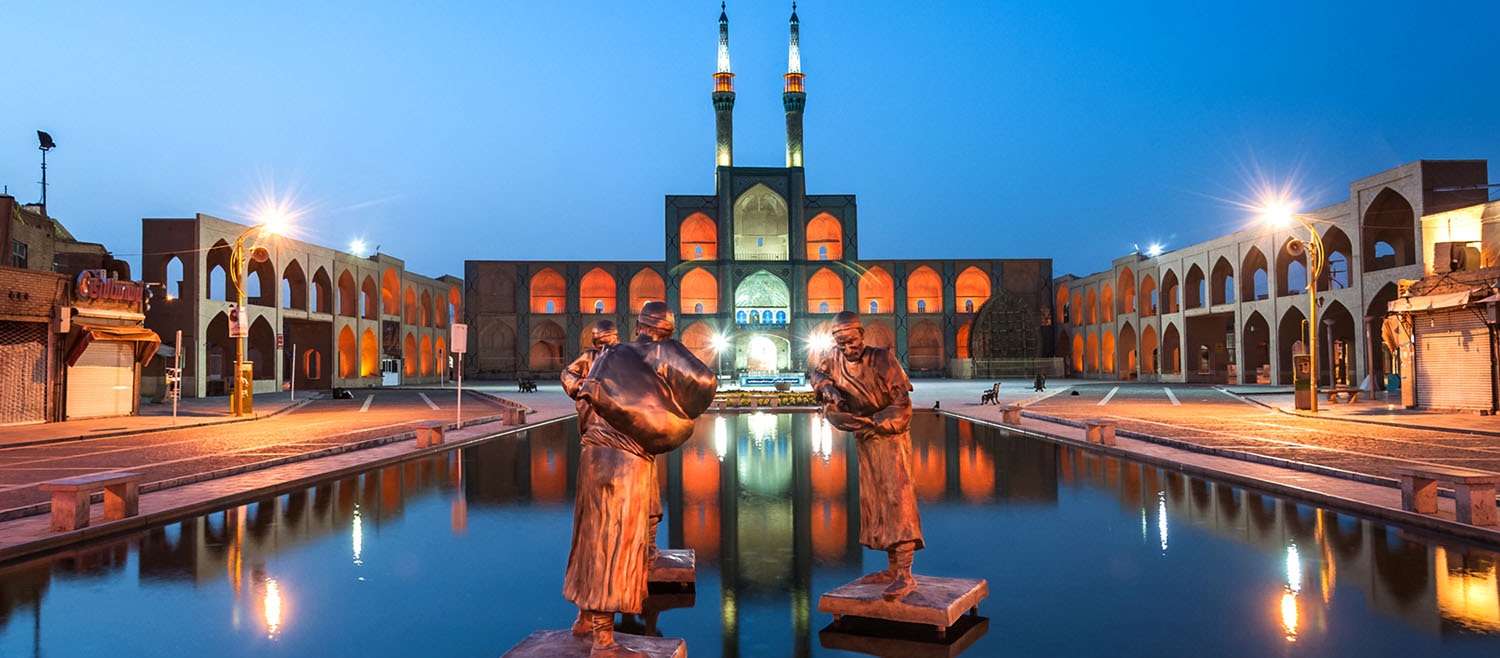 Alexander's Prison (Ziaiyeh School)
Alexander's prison or Ziaiyeh School is an ancient domed structure that has a mysterious history. In fact, there are different opinions about the original purpose of the building; however, it now serves as an Ethnographic Museum. The complex contains a deep, circular, brick-lined pit almost 10 meters in diameter resembling an ancient dungeon. There is also an amazing domed tower 9m long and 18m tall.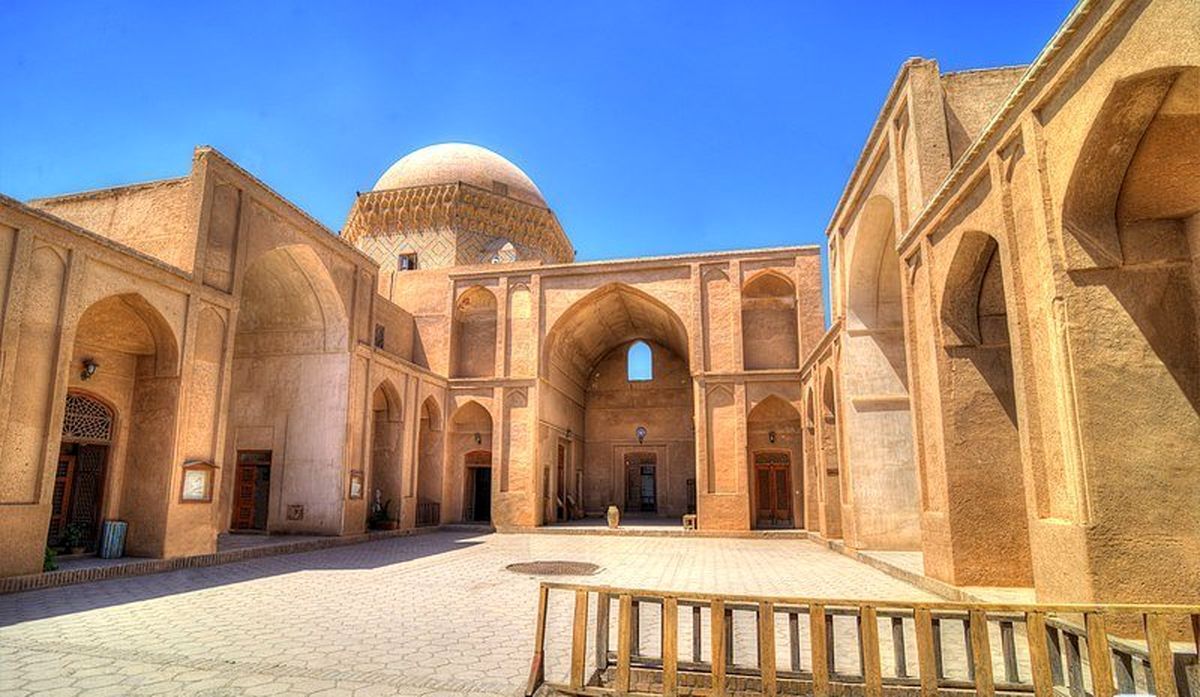 Fire Temple
The Fire Temple or "Atash Bahram" is one of the sacred Zoroastrian buildings that is located in a lush garden of Yazd.  The building is famous for its holy flame that is said to have been burning since 1500 years ago. The other prominent feature of this temple is the presence of Farvahar symbol and Zoroaster slogan above the entrance.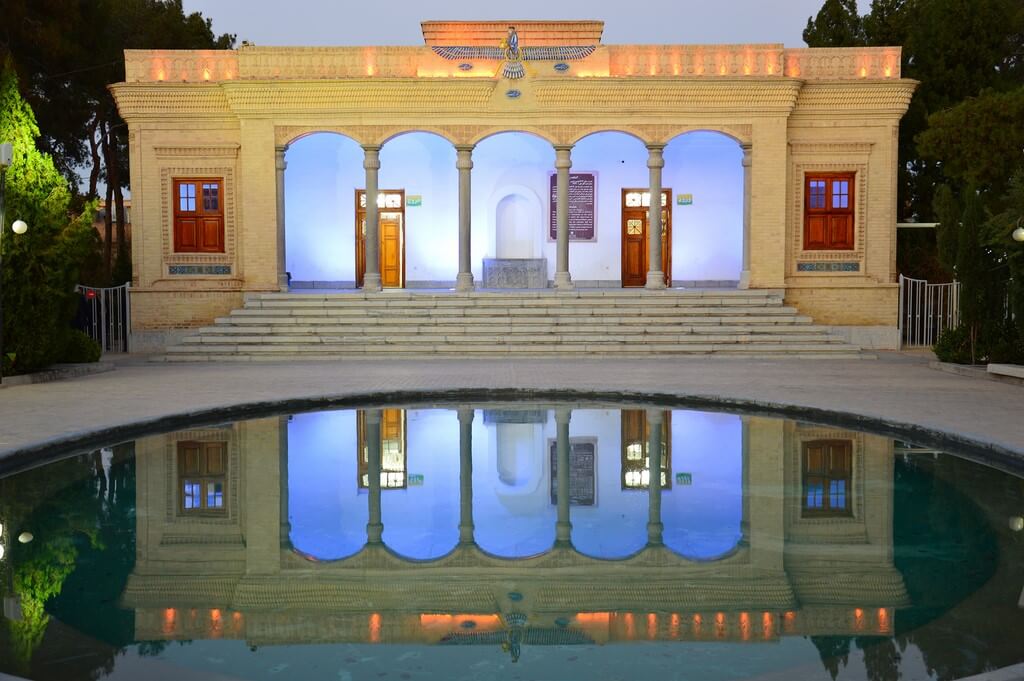 Silence Towers
Zoroastrian Towers of Silence is a mysterious place that is situated 15 km south of Yazd city. Its function is interesting and a bit scary; after the death of each person, the Zoroastrian took his body to the towers to be eaten by birds and insects. The internal structure of the tower is a flat and circular area that is separated into three parts for women, men and children's bodies.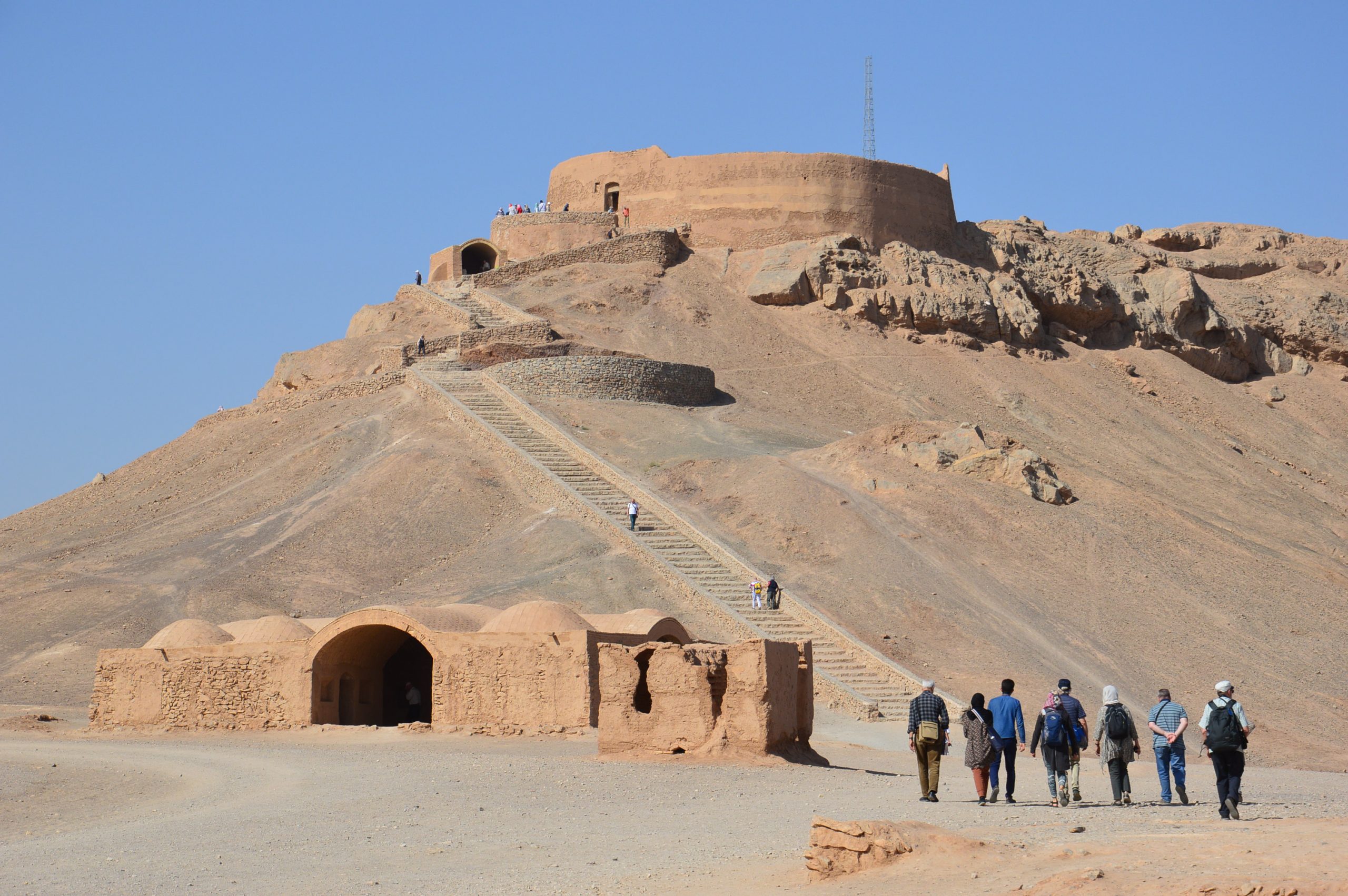 Dolat Abad garden is a fabulous historical garden in Yazd, and one of the nine "Persian Gardens" registered as UNESCO sites. It was built by Mohammad Taghi Khan Bafghi, the ruler of Yazd, in the late Afsharid period. The garden is renowned for its vestibule mansion with the stained-glass windows, and the tallest Iranian wind-tower with 33m height.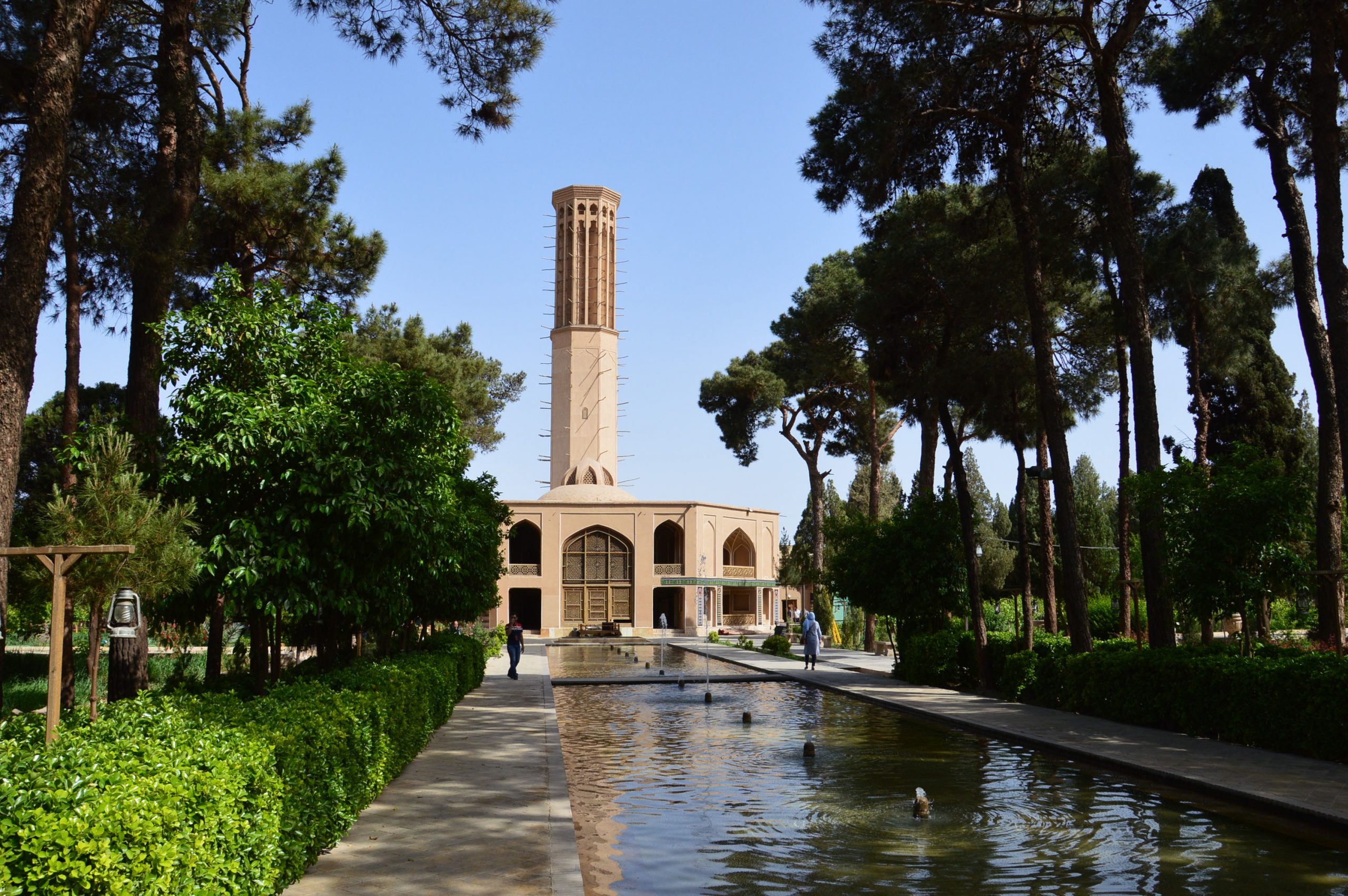 Shah Abbasi Caravanserai
Shah Abbasi Caravanserai is one of the important roadside lodging houses of the Safavid era that is located in Meybod, Yazd province. This caravanserai is unique in terms of its stunning and well-renovated architecture; and also, includes an Ab-Anbar (water reservoir), a Chapar Khaneh (courier-house), an Ice House, and 24 chambers that today are used as handicraft workshops.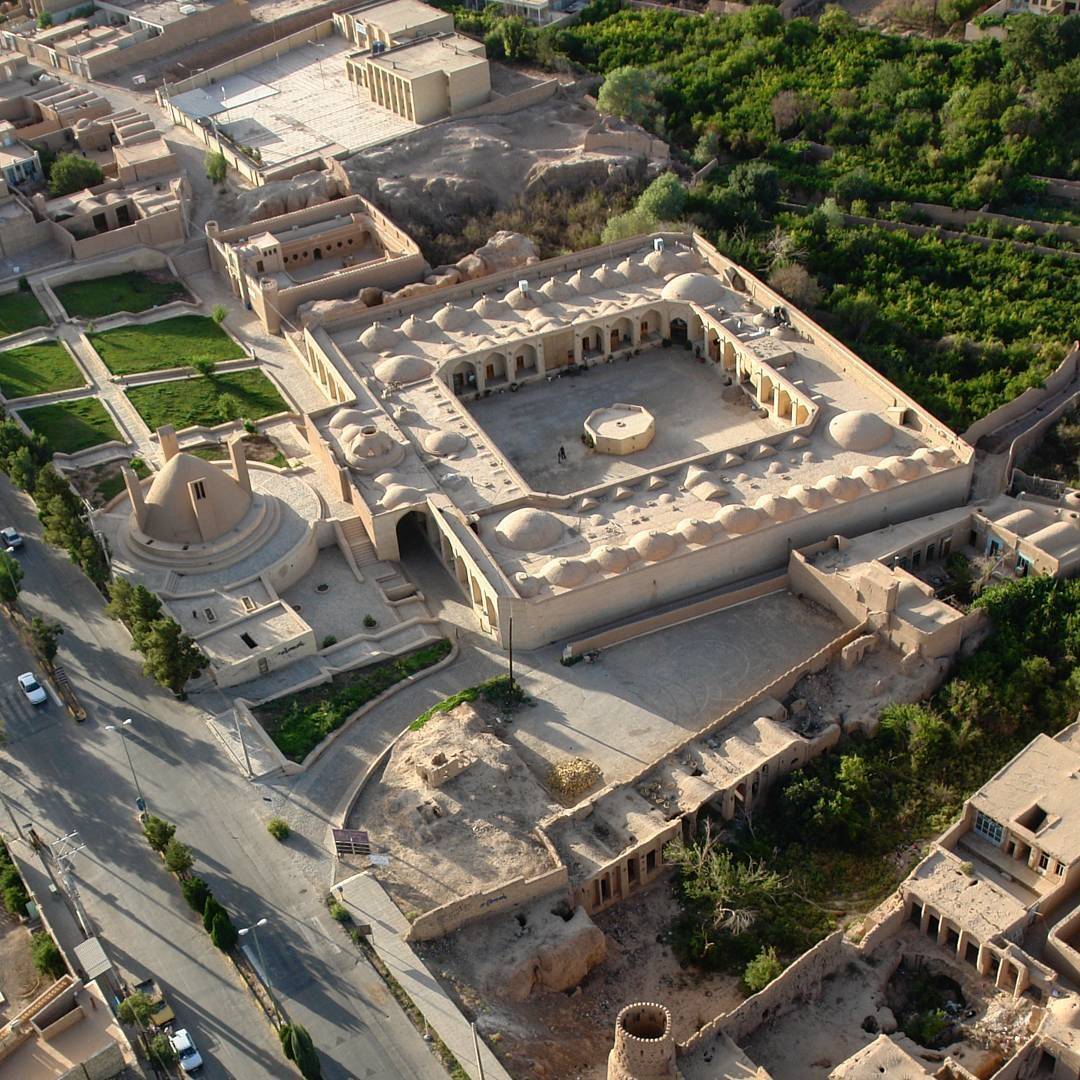 Chapar Khaneh (Courier-House)
Chapar Khaneh is a Persian courier-house that is located in Meybod, Yazd, next to Shah Abbasi Caravanserai. It dates back to the Qajar era and was built to protect and exchange letters and government documents. It is a mud-brick structure that includes room for the courier chief, rooms to house couriers and guards, and stables.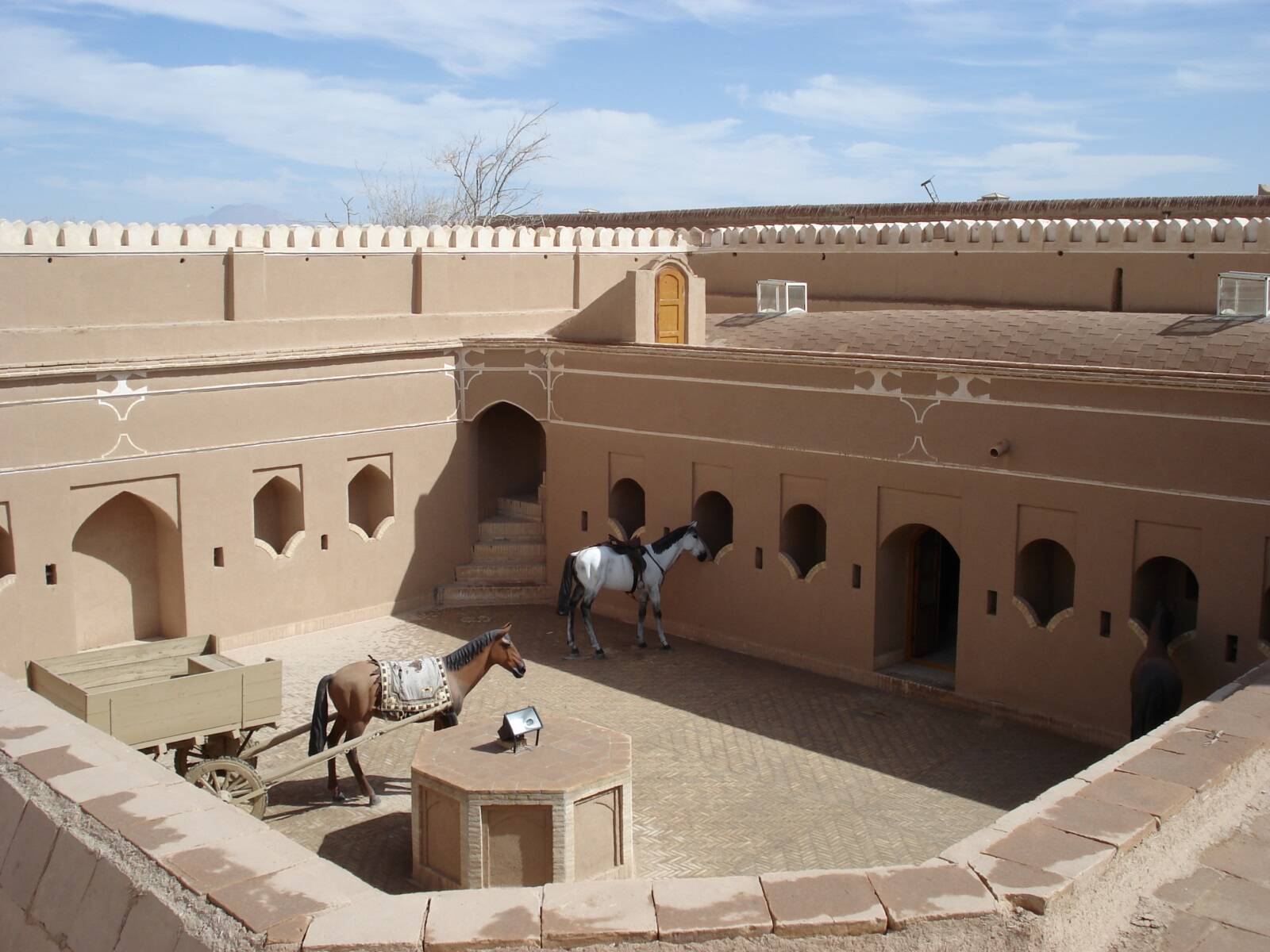 Narin Castle
Narin Castle is one of the most important pre-Islamic historical monuments, located on top of a hill overlooking the beautiful city of Meybod in Yazd province. This mud-brick fort was considered as a strong and indestructible place against enemies and aliens. Some experts believe that this huge historic mansion was built at the time of Prophet Solomon.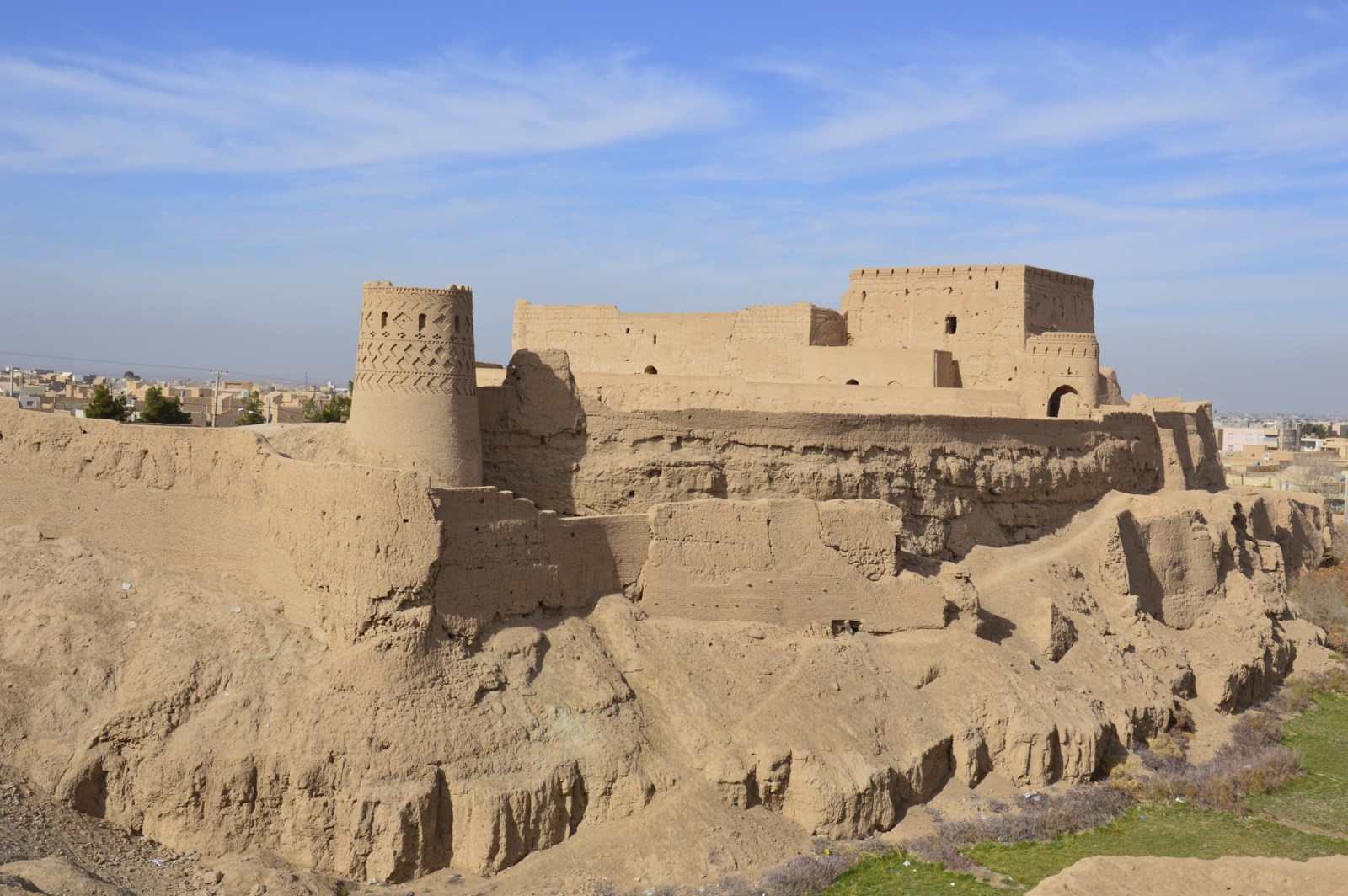 Pigeon Tower
Pigeon Tower or "kabutar khane" is located in the southeast of Meybod, Yazd. Pigeon towers have been used in Iran for centuries, providing a safe home for pigeons. Pigeon towers were also built for the purpose of collecting the birds' droppings, since they are very rich and effective fertilizer for growing plants and crops.
The Meybod pigeon tower dates back to the Qajar era and seems really attractive and strange to the modern world. This building is 8 meters high and can include 4,000 nests for migratory pigeons.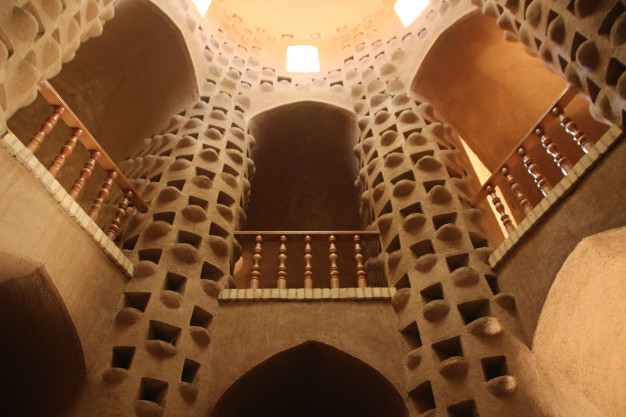 Chak Chak Shrine
Chak Chak shrine also known as "Pir-e Sabz" is one of the sacred Zoroastrian religious sites located in the heart of a mountain, on Tabas Road, 48 km from Yazd. Chak Chak is revered for its spiritual values by the followers of the ancient Iranian religion. The entrance of the shrine is like a cave crater and the interior section is beautifully decorated with the paintings.