Tehran is the chaotic, dynamic, surprising and smoggy capital of Iran. It is located in north-central Iran, at the southern foot of Alborz Mountain range. Generally, the climate in the mountainous areas is mild and the plains have semi-desert climate.
Since Tehran was the capital of Qajar dynasty, it has grown from a small city to one of the world's most populous cities with 14 million inhabitants.
Hence, this fascinating city includes more than 250-year-old attractions; such as the UNESCO site of Golestan Palace, Grand Bazaar, and the beautiful Azadi Tower. Tehran also presents many excellent museums, gardens and traditional tea houses in Darband and Darakeh.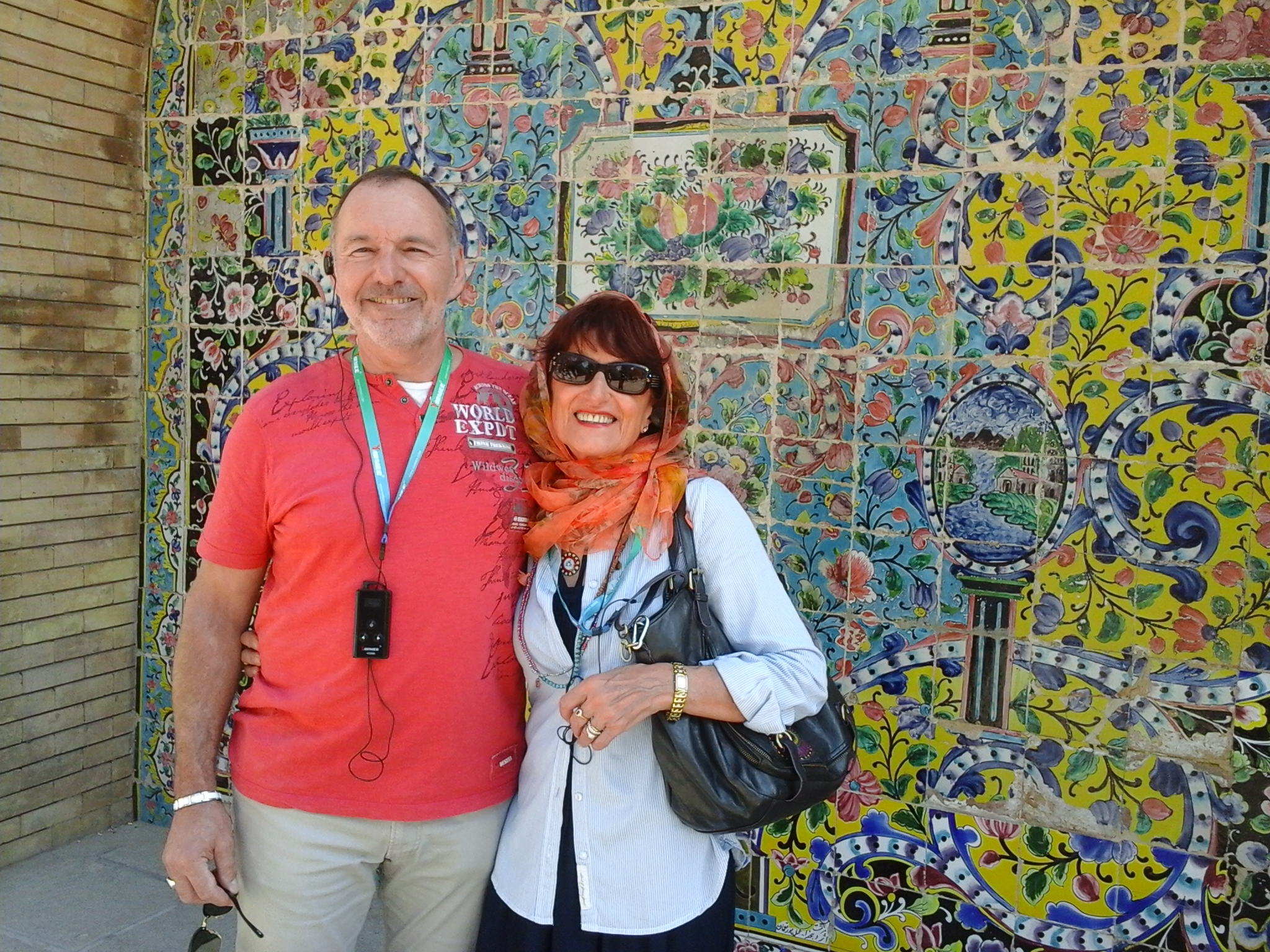 Golestan Palace (UNESCO Site)
Golestan Palace is a masterpiece of Qajar era and one of the oldest buildings in Tehran. This palace is the successful source of traditional Persian arts. More, the western architecture of the 18th century has influenced this palace. This adorable Palace consists various sections. It includes Ivan-e Takht-e Marmar, Main Talar, Shams-ol-Emareh Building, Hoz khane Museum, Negar-khaneh Museum, Khalvat-e Karim Khani, and Diamond Talar.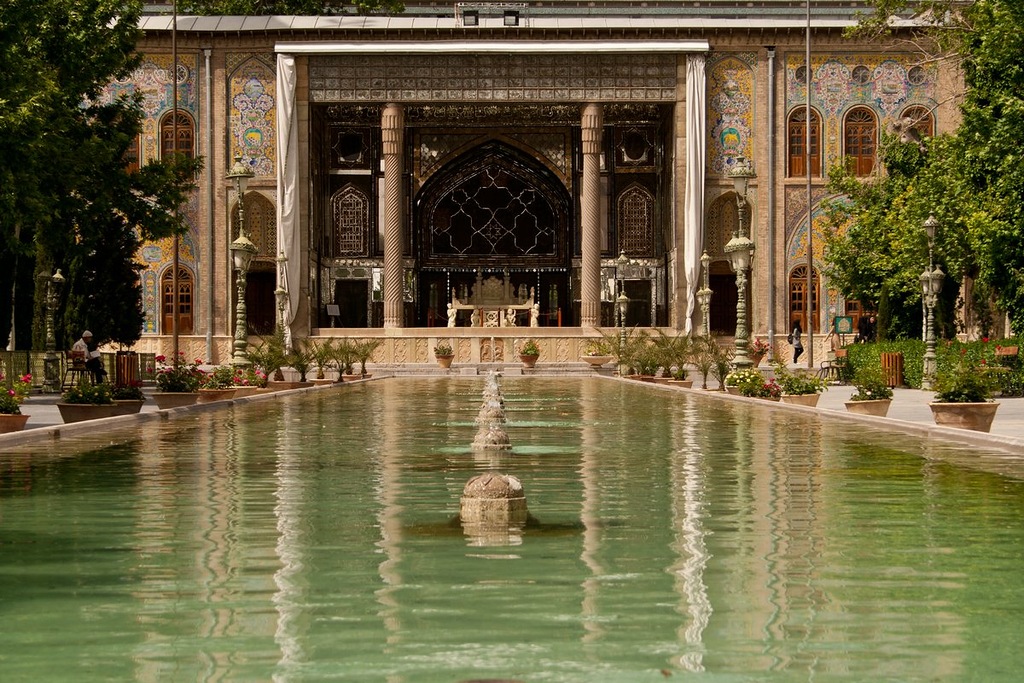 National Jewelry Museum
The National Jewelry Museum is a unique and stunning collection of priceless jewels. Hence it preserves in the central bank of Iran. This fabulous treasury is attributed to Safavid, Qajar and Pahlavi kings. Although they have been collected over centuries, the current jewelry treasury built in 1955 and opened in 1960. Visiting this special museum is not possible every day, please check opening hours in advance.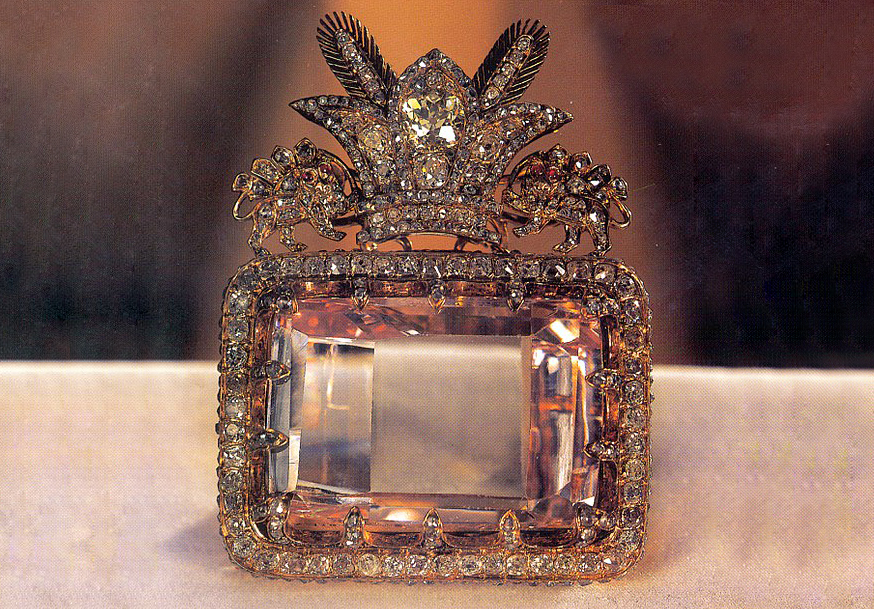 Iran National Museum
Iran National Museum is the country's largest museum of History and Archeology. It contains more than 300.000 objects from Paleolithic to Qajar period. This collection includes archeological artifacts and ancient antiques. This museum includes ceramics, pottery, stone figures and carvings. Inspired by the Sassanid era's architecture and art, this museum found in 1974.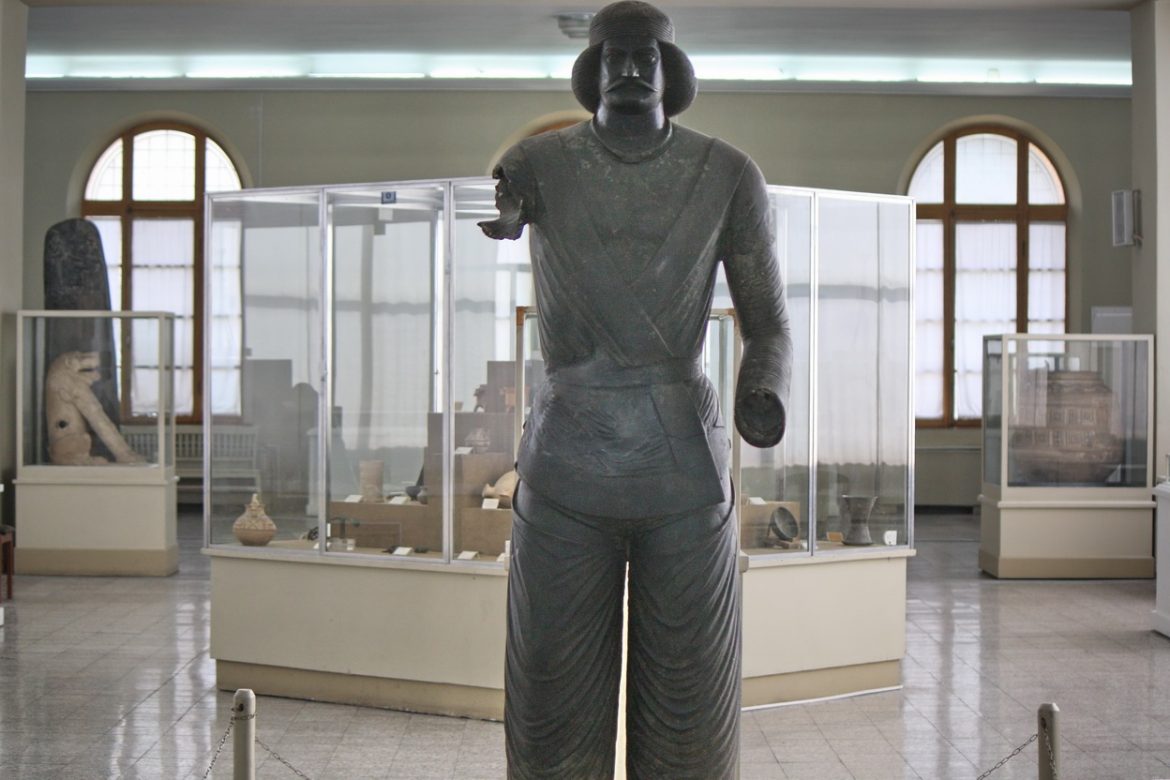 Niavaran Complex
You will find the cultural and historical complex of Niavaran in the northern part of Tehran. Located in a great garden with 11 ha area. The monuments of this complex belong to Qajar and Pahlavi eras. The courtyard of the complex includes different parts: Niavaran Mansion, SahebGharani-e Palace, Ahmad Shah Pavilion, Automobile Museum, Jahan Nama Museum, and Imperial Library Museum.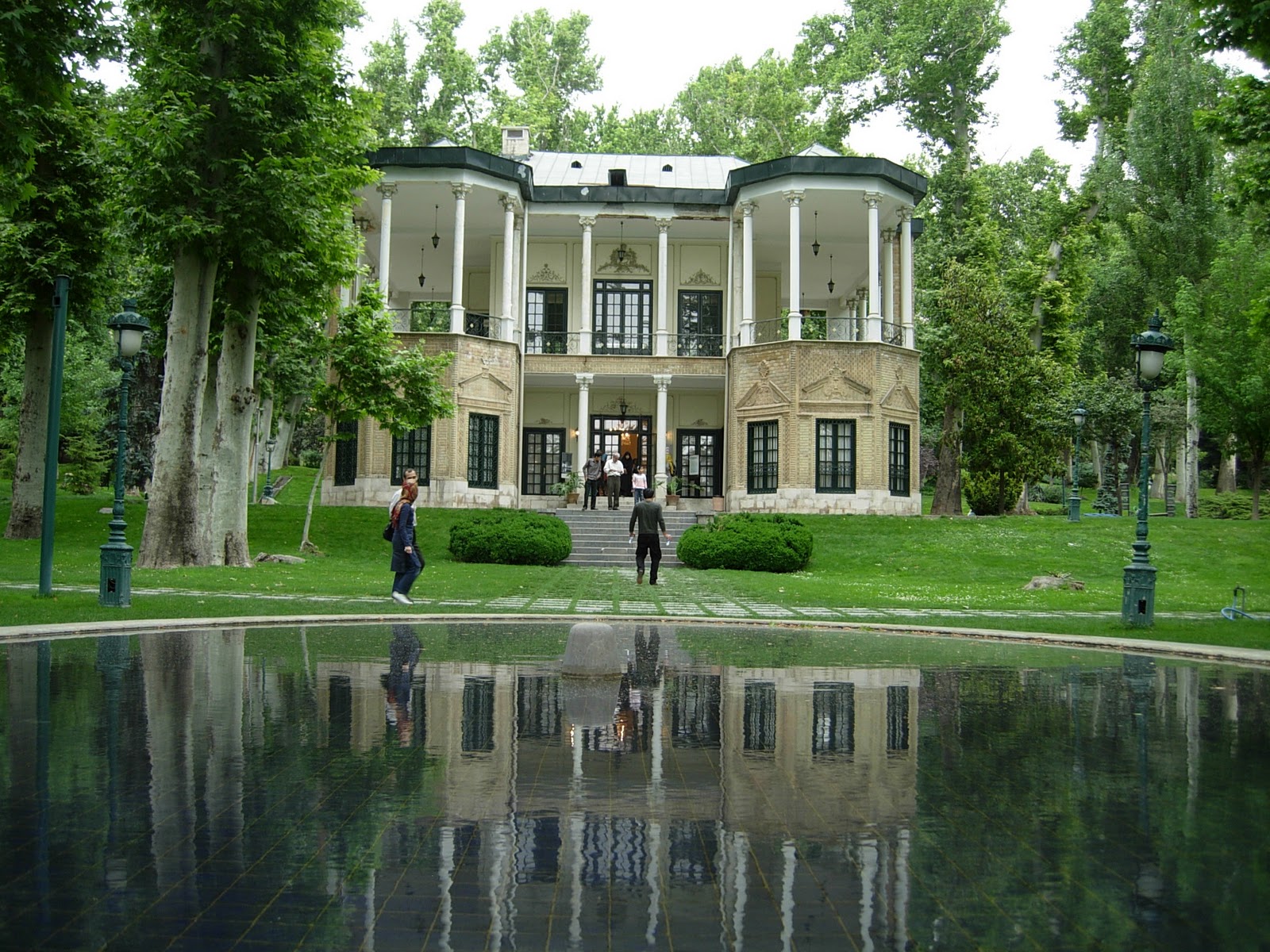 Sa'd Abad Complex
The complex of Sa'd Abad is in the pleasant part of north Tehran, at the foothills of Darband. This glorious complex with 110 ha area contains 12 museums and 18 palaces. Basically, it was the summer home to royals of Qajar and Pahlavi. It includes White Palace, Green Palace, Nations Art Museum. More, there are exhibitions presenting royal vehicles, military equipment, and royal costumes.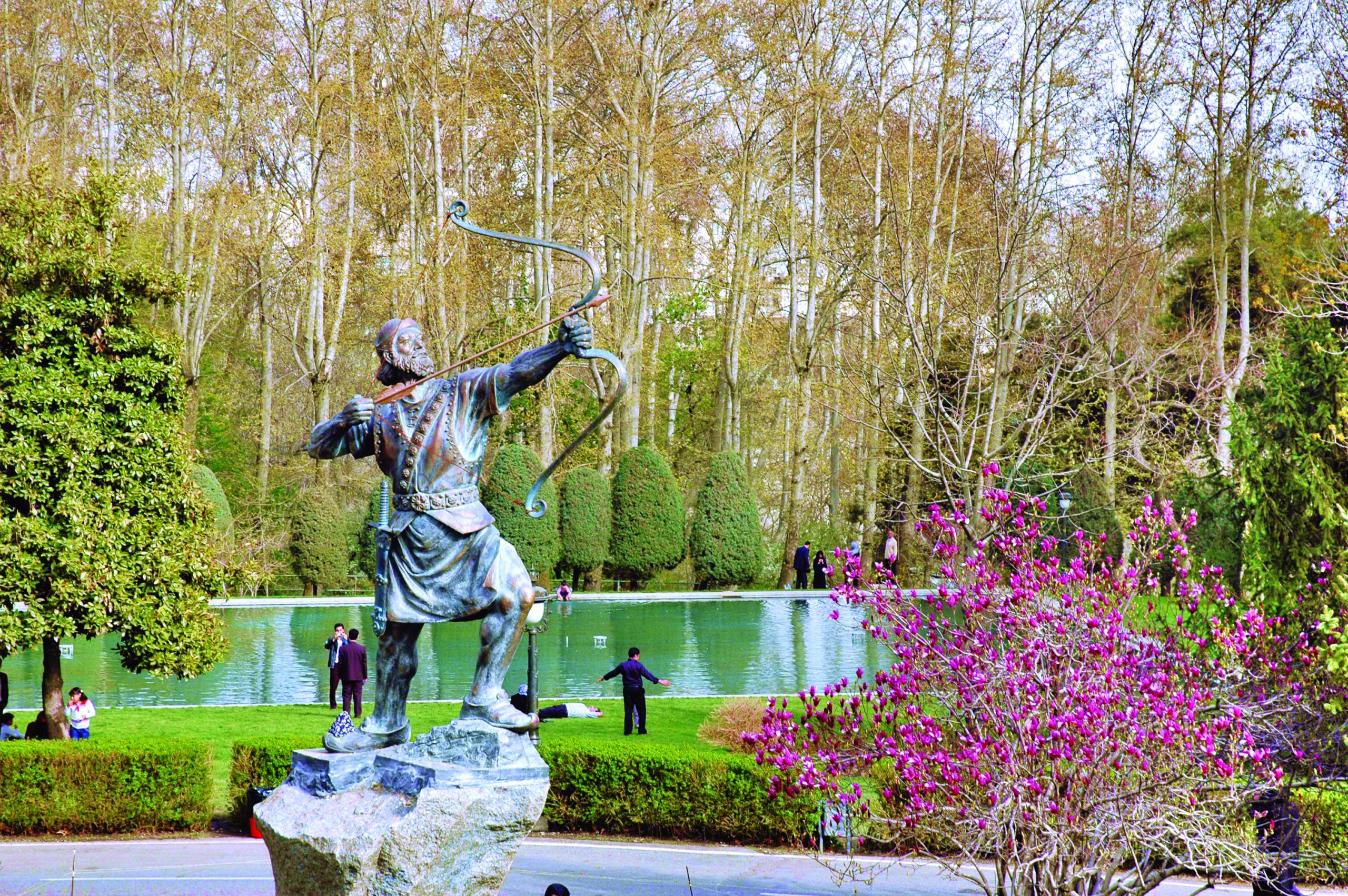 Carpet Museum
Carpet weaving is one of the most manifestations of Iranian culture and art. It dates back to the Bronze Age. Tehran Carpet Museum is where you can find more than 100 Iranian carpets dating from the 17th century to the present-time. Meanwhile, you'll discover the Iranian patterns and styles. Farah Pahlavi in 1978 has designed this museum with an amazing architecture.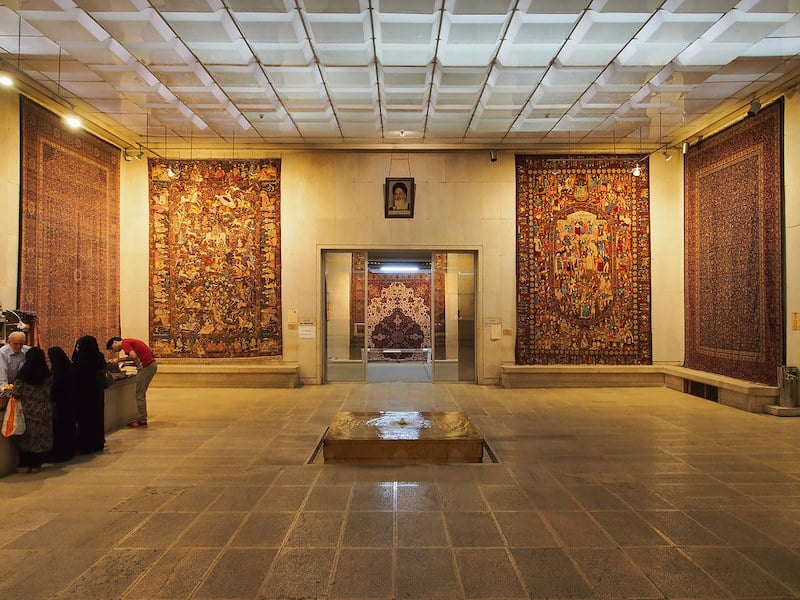 Azadi Tower
Azadi Tower is one of the most famous symbols of Tehran. It is constructed in 1971, during Mohammad Reza Pahlavi's reign. Azadi Tower architectural style is a combination of Achaemenid, Sassanid and Islamic architecture. Go inside the tower to see its special engineering and to have an amazing view of the crowded city.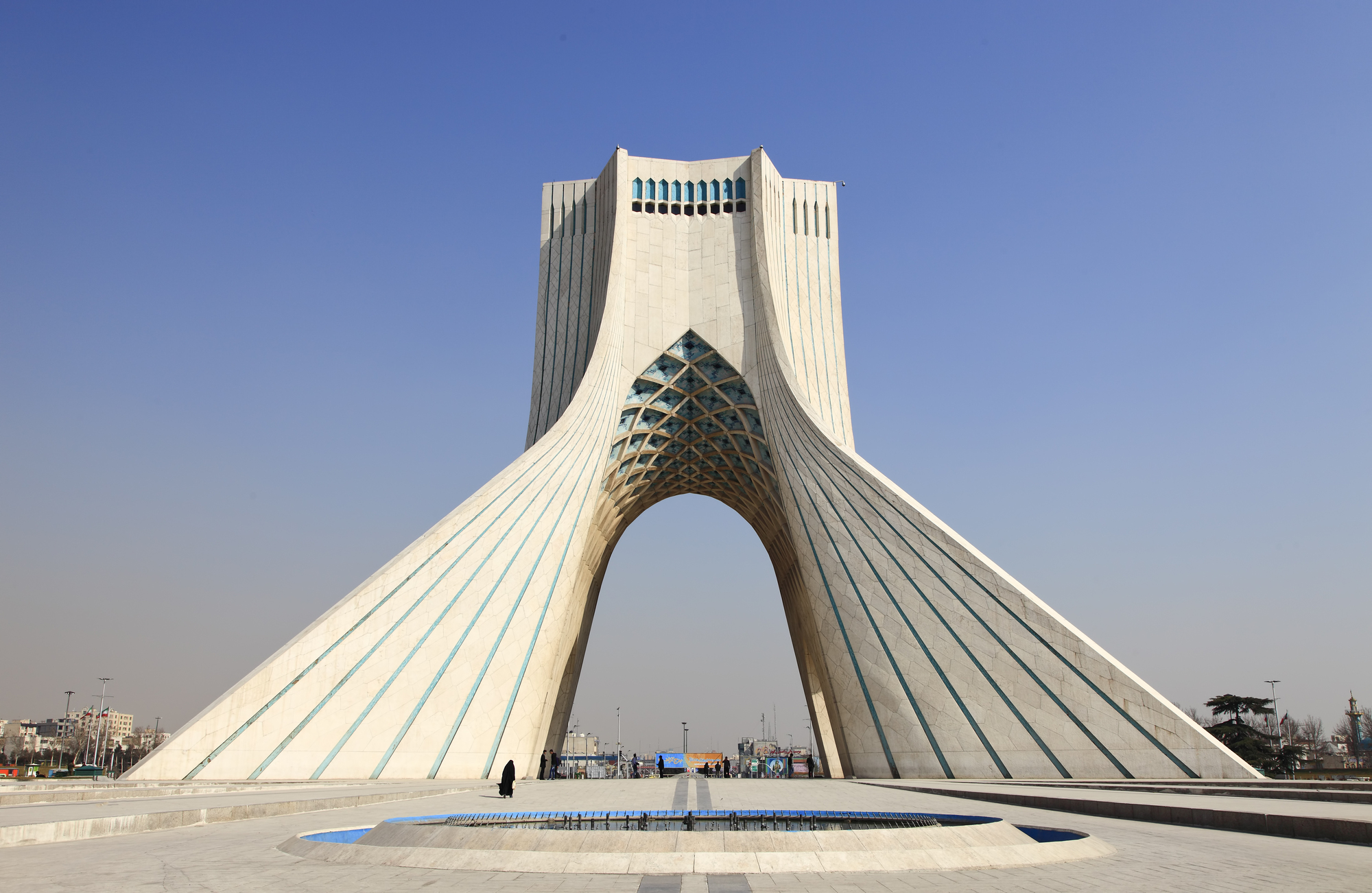 Milad Tower
Milad Tower with 435m height is one of the world's tallest towers. It provides an amazing panoramic view of Tehran and mountains. Its telecommunication antenna can be seen from anywhere in Tehran. So, this tower is a multi-purpose tower. The tower hosts different exhibitions and events. Milad Tower revolving restaurant is one of the world's largest revolving restaurants.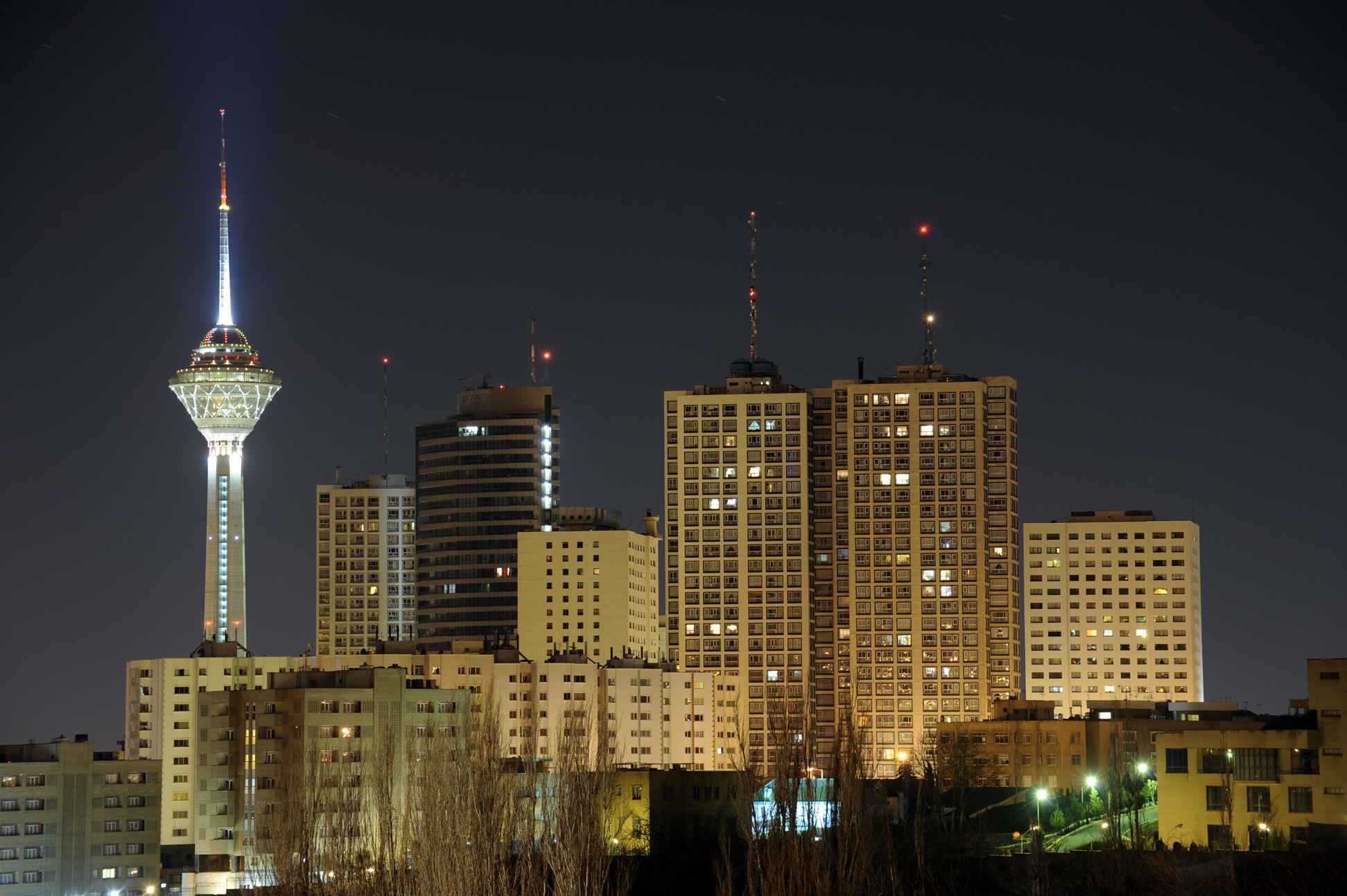 Tabiat Bridge
Tabiat Bridge is the largest pedestrian bridge that connects two famous parks of Tehran: Taleghani Park and Abo-Atash Park. That's why it's name is "Tabiat" meaning "nature". This bridge is about 270 meters long. It consists of a 3 dimensional truss with two continuous levels that sits on three tree shape columns. Leila Araghian was the designer of this bridge.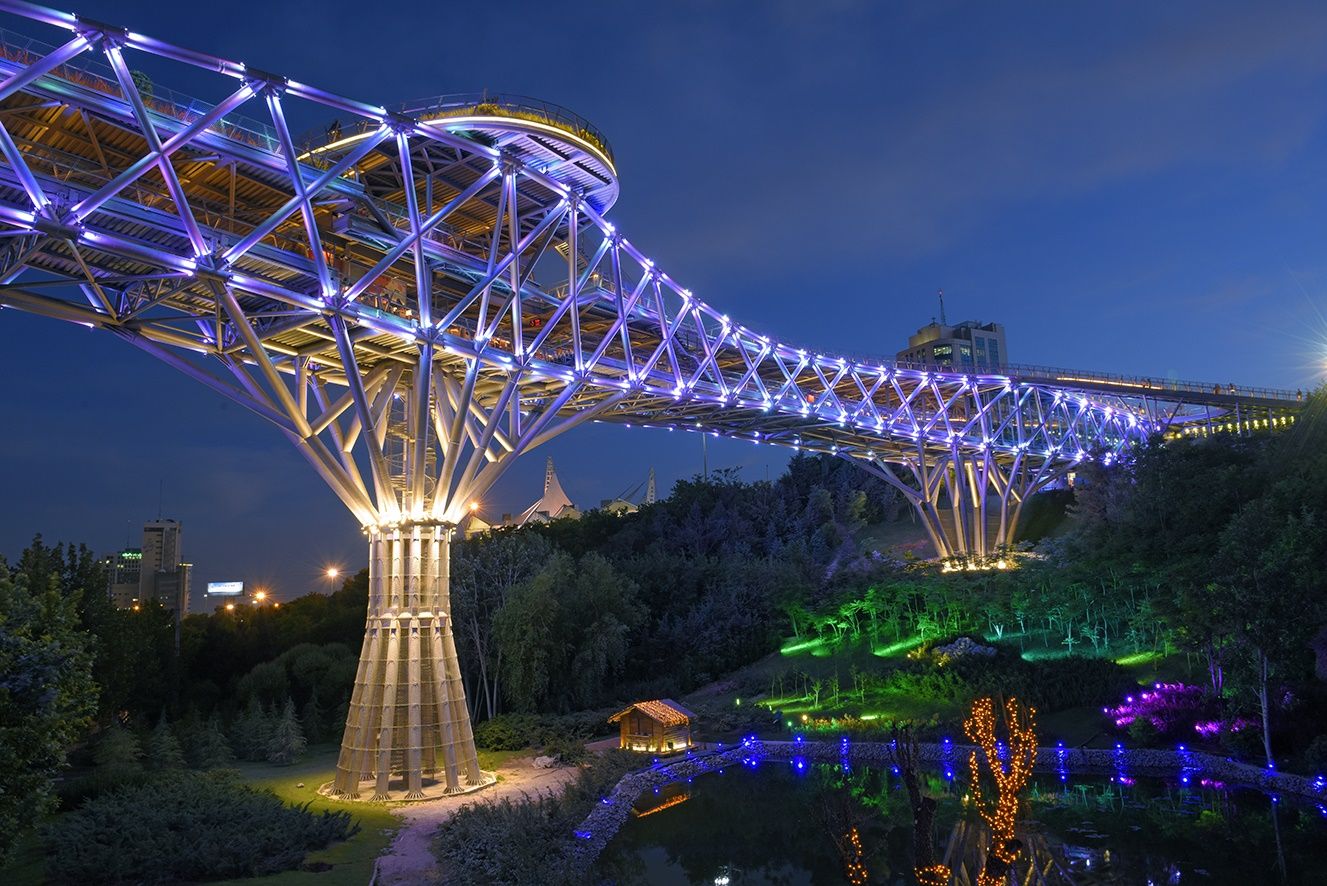 Tochal Ski Resort
Tochal Ski Resort is one of the highest resorts in the world. It is also the most famous and well-equipped ski center in Iran. This resort is about 10 km from Tehran, and it is ensuring a long season from December to at least April. This complex includes two ski resorts, hiking and mountain climbing route, zip line, telesiege, shooting club, tennis club, restaurants and Tochal hotel.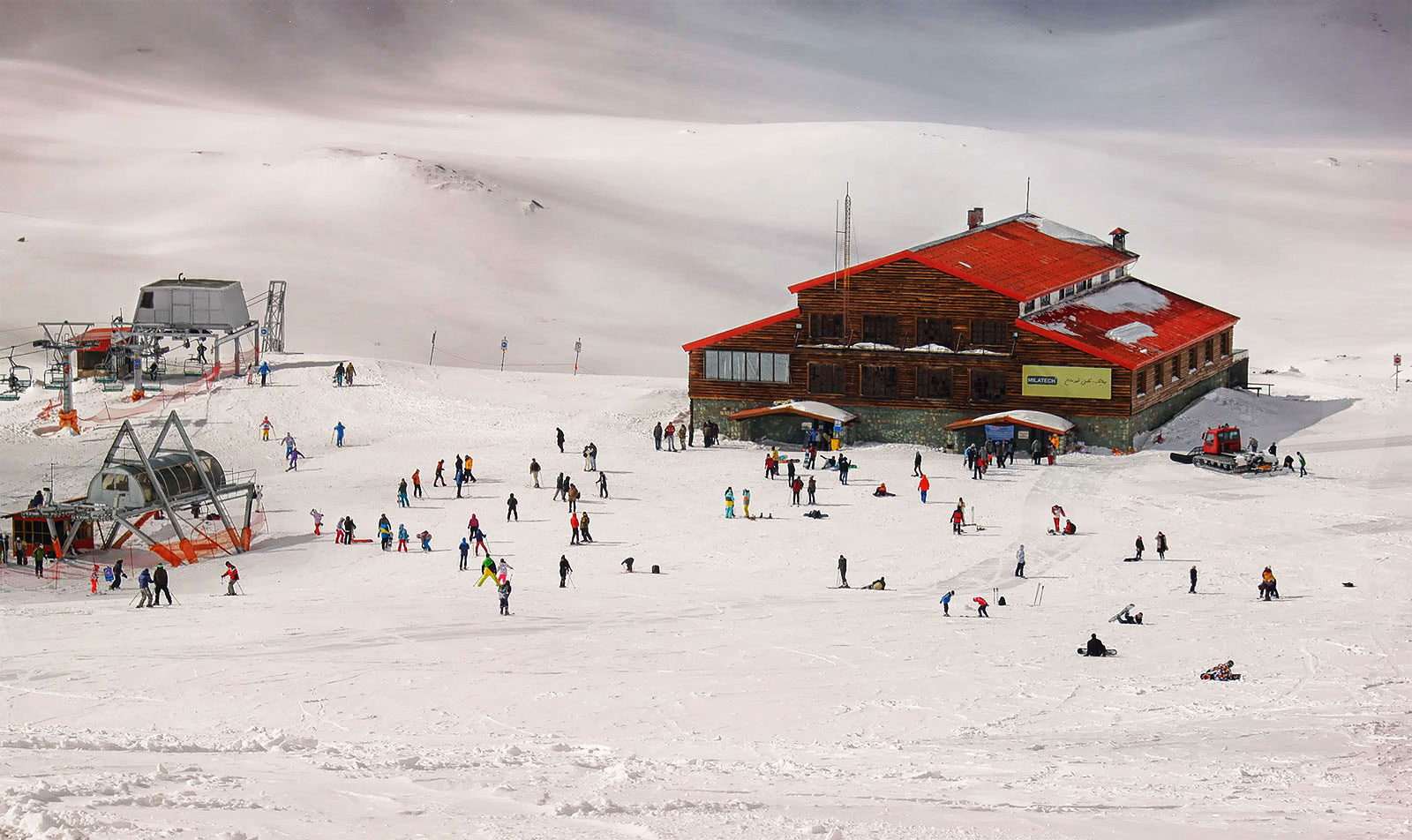 Tehran Grand Bazaar
This is the oldest and biggest traditional bazaar in downtown Tehran. When you enter the bazaar, look at the arches and labyrinth corridors. Its traditional architecture shows that the fundamental core of bazaar goes back to Safavid era. You can find all sorts of products with economical prices in different sections of this traditional bazaar.  From clothes and jewelries to home accessories, copper dishes, and nuts. It's suggested to try delicious Iranian dishes in famous restaurants of bazaar.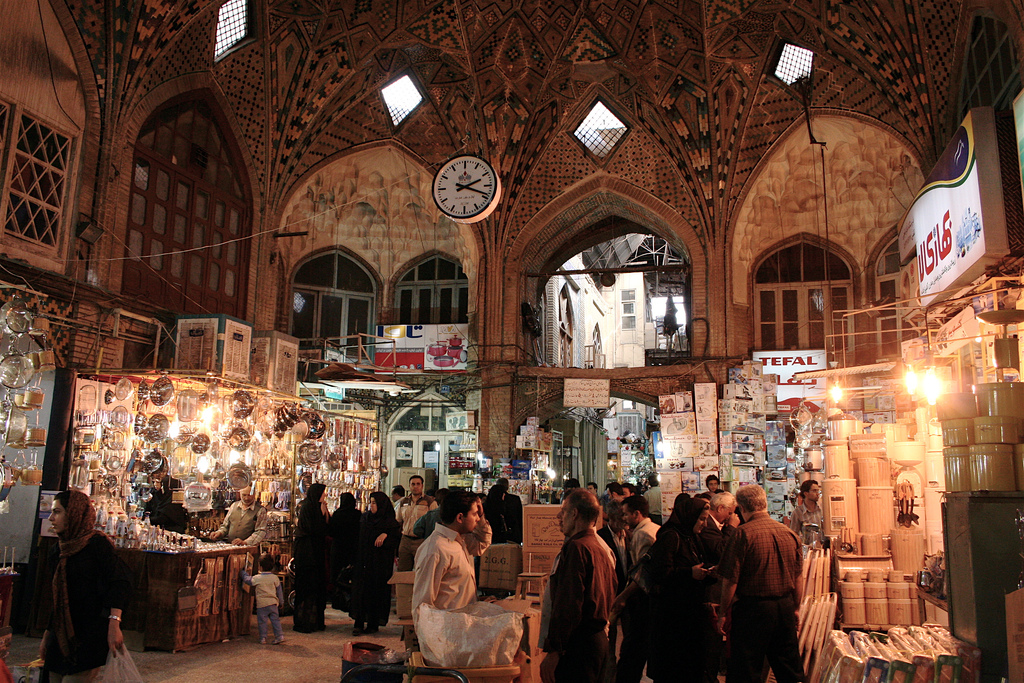 Tajrish Bazaar
This is an old bazaar situated near ImamZadeh Saleh. Some parts of Tajrish bazaar date back to the Qajar dynasty. When you walk through its long hallways covered with brown bricks and various stores, the combination of color and history will surprise you.
Tajrish bazaar is an astonishing collection of goods. It includes gold, jewelry, copper, nuts, pickles, spices, clothes, religious artifacts, and etc.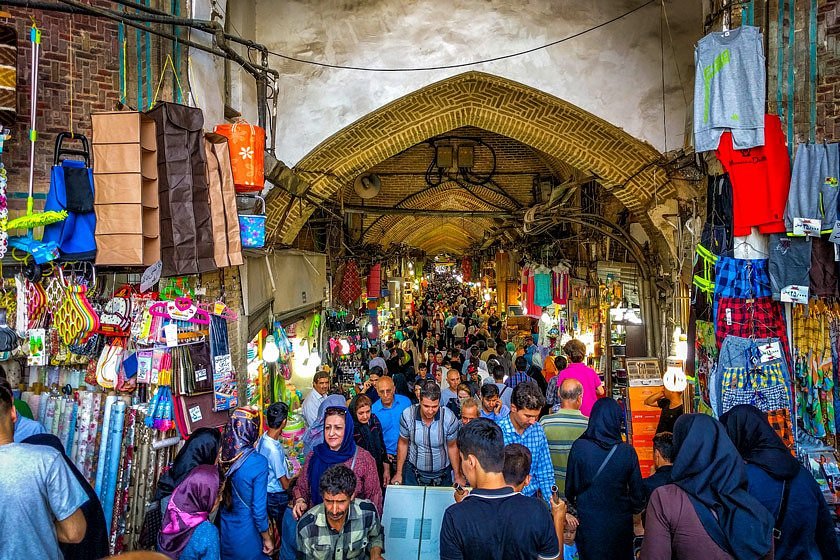 Imamzadeh Saleh
Imamzadeh Saleh is a picturesque and attractive religious site in Tajrish district of Tehran. You will enjoy its beautiful Quranic calligraphy and colorful tiles. This is the resting place of Saleh, Musa Al-Kadhim's son, the seventh Shiite Imam. This shrine is situated in the northern district of Shemiran, Tajrish square. Its construction dates back to the 13th century and traditional Safavid style has affected this building.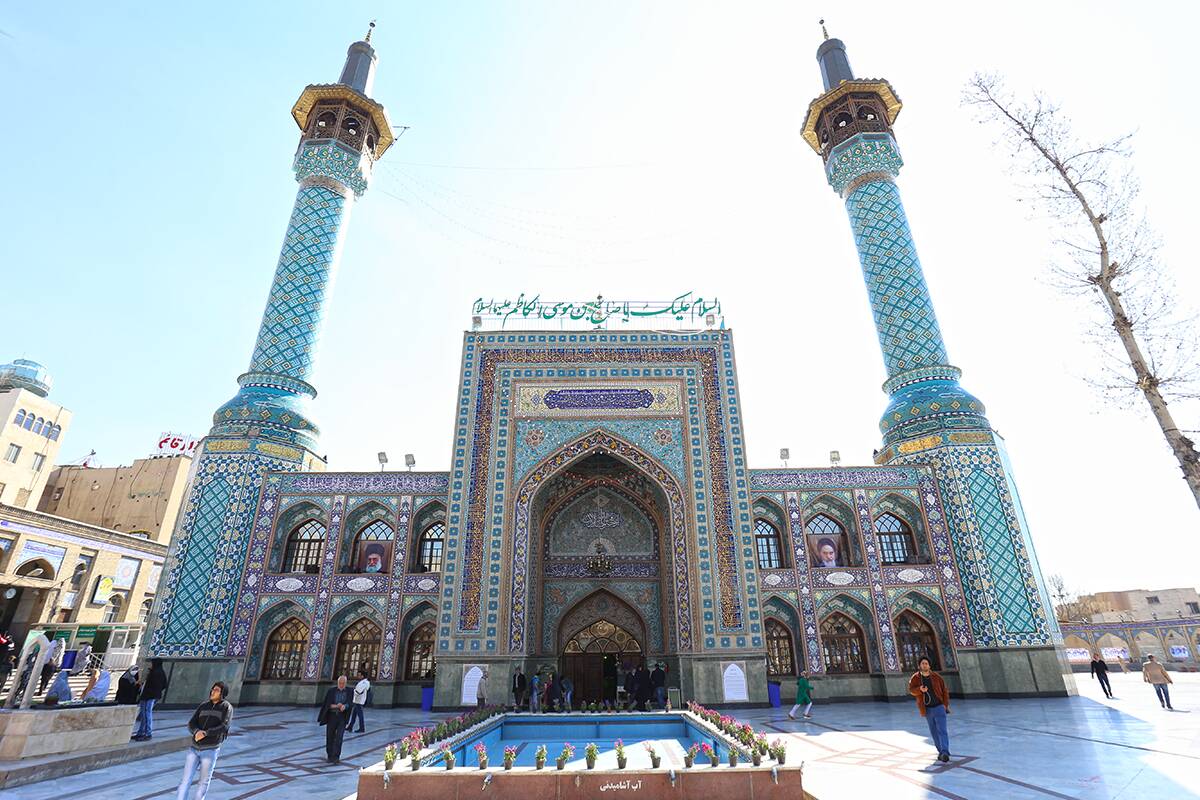 Abgineh Museum
The glassware and ceramic museum or Abgineh Museum is a unique collection of glassblowing arts. It includes glass works from ancient Iran, pre-Islamic period to contemporary, glass tubes from Chogha Zanbil dating back to 2000 BC. The former Queen of Iran, Farah Pahlavi, has ordered to build this museum in 1980.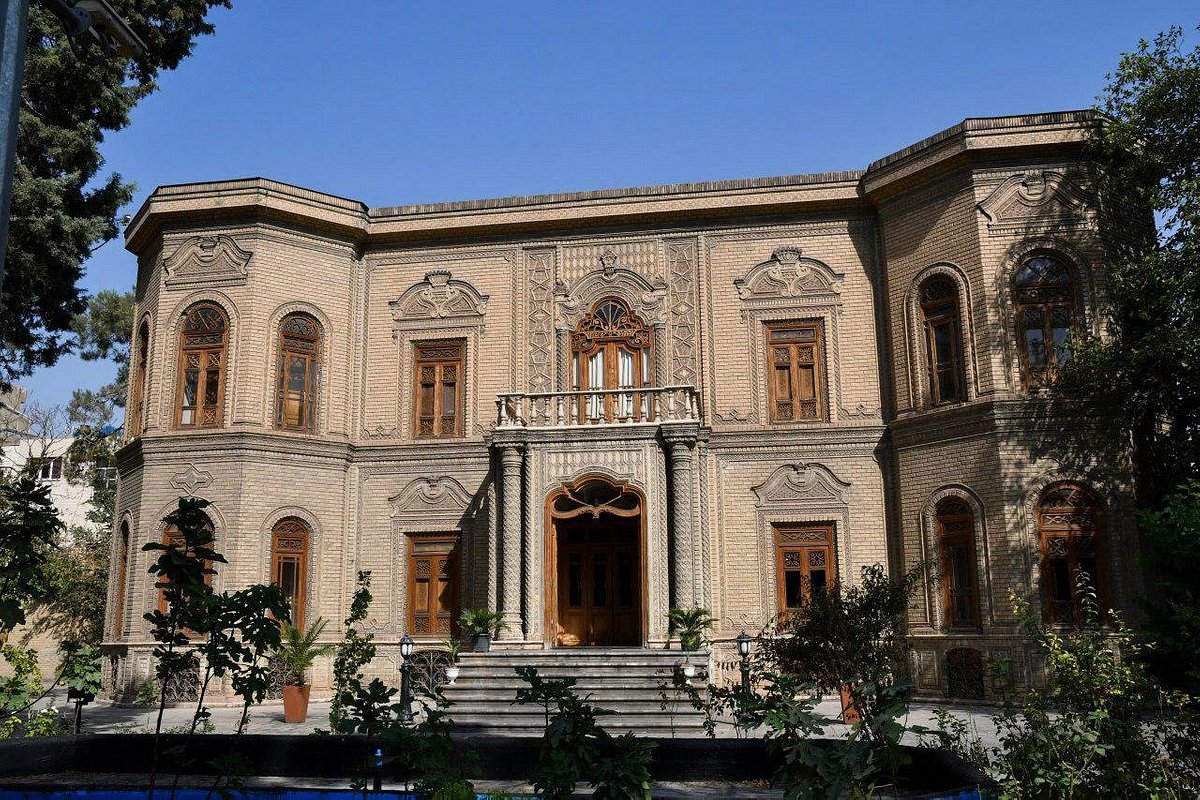 These 14 attractions are the most well-known ones; but Tehran has yet more to explore. Among them we can suggest Time museum, Moghadam museum, Reza Abbasi museum, Chitgar Lake, Tochal Resort, Iran Mall, Iran classic car museum, Ferdows Garden or Cinema museum.
Besides, thank you for reading this blog. Hoping you'll find it enjoyable and helpful. In case you aim to travel to Tehran, please leave us a comment including the 5 top attractions you prefer to visit.
Always remember that your comment is really valuable to us.