Have you heard anything about Kerman? Did you know that Kerman is one of the oldest cities of Iran full of strong cultural heritage?
Most travelers take Iran's classic route tour including famous cities like Tehran, Isfahan, Yazd and Shiraz. However, other cities of Iran have enough attractions to present and they are not full of tourists.  Kerman is one of them!
Kerman is the capital of Kerman province located in the southeastern of Iran. People know Kerman as a four season city since it is on the high margin of Lut Desert and also surrounded by high mountains. Kerman has warm weather in summer, and frequent sandstorms in autumn and spring, but the climate is generally cool.
This city is famous for its long history and rich cultural heritage. The world's longest bazaar, Persian Qanats and the most ancient citadel, are some of the notable highlights for visiting this wonderful city.
Due to the Kerman's location, desert lovers can enjoy visiting the beautiful regions of Kaluts and Gandom-e Beryan. Kerman is also the largest producer of hand-woven carpet and a major exporter of pistachio and cumin in Iran.
At least, allocate three days to experience all the highlights of Kerman and its surrounding area while discovering historic sights.
Shahdad desert, also known as the gate of Lut desert, is the 27th largest desert in the world. This magnificent region is a UNESCO World Heritage site, and includes hundreds of natural, towering sculptures called Kalouts. Kalouts are sandy mountains created by the erosion of strong winds about 20000 years ago. Shahdad Kalouts are located 40 km south-east of the city of Shahdad.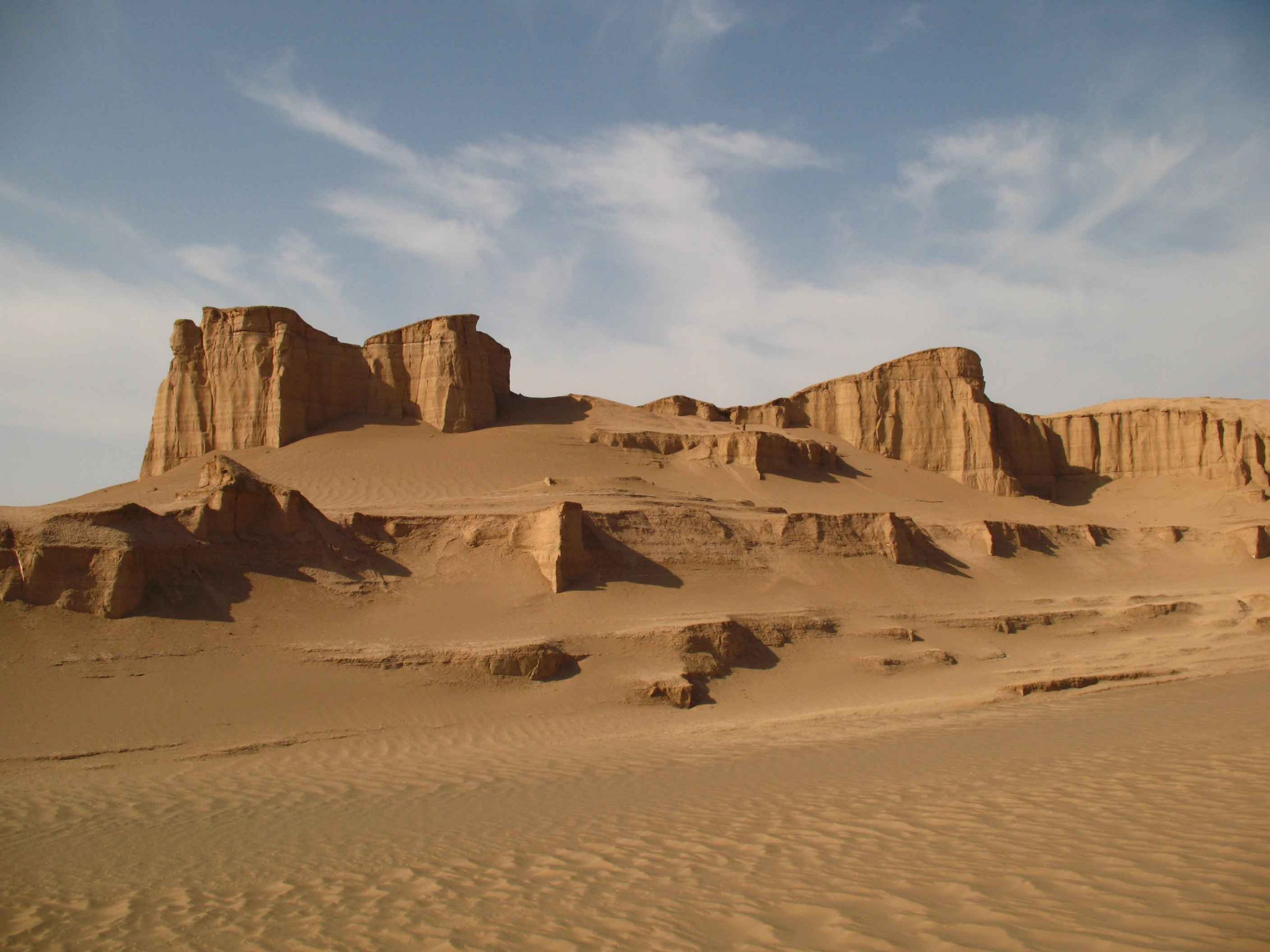 Arg-e Bam with a history of 6000 years, is the biggest adobe structure in the world located in the city of Bam, 190 km from Kerman. "Bam and its cultural landscape" is another important UNESCO World Heritage site; since it is an amazing sample of fortified town built in local technique using mud layers. The earthquacke of 2003 almost completely destroyed, but extensive restorations started shortly after the earthquake.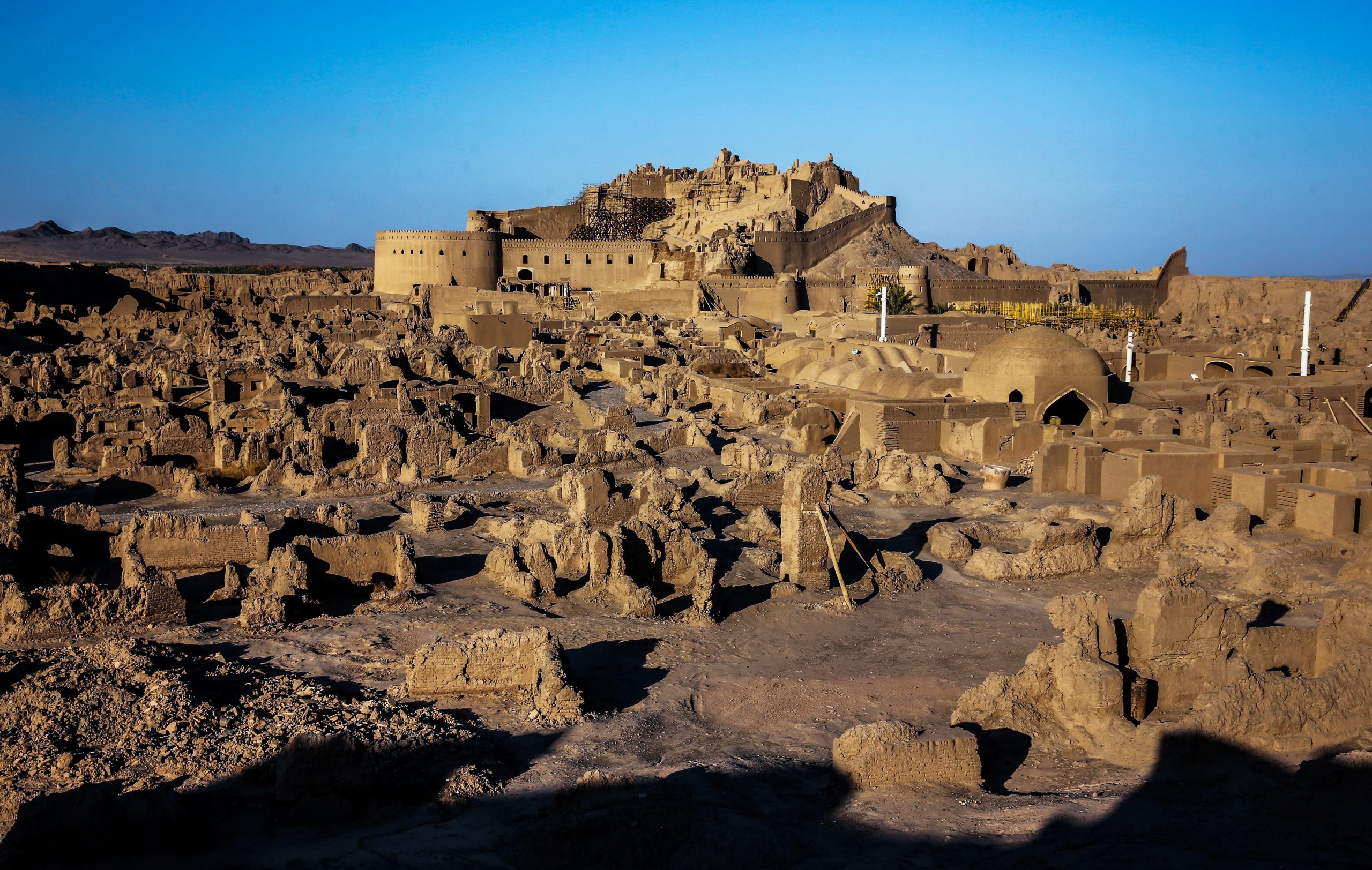 Shazdeh Garden, meaning Prince's Garden, is one of the most beautiful Persian gardens located in Mahan, 40 km from Kerman. Built in the Qajar era to be the summer residence of Qajar kings. It was listed as a UNESCO World Heritage site since it is a green surprise in Kerman desert and has a smart architecture; the water distribution system of this garden follows special engineering using Qanat.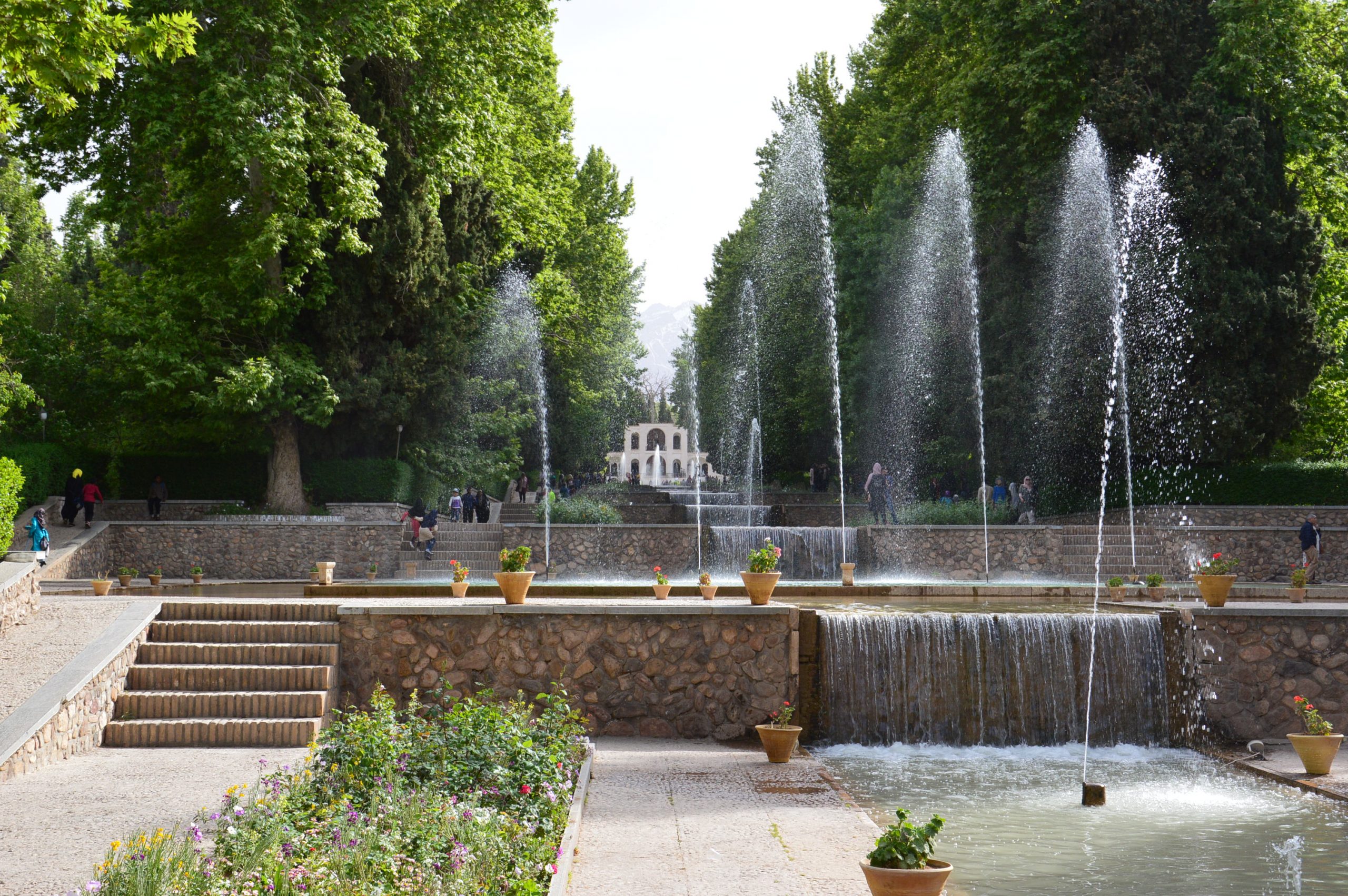 Rayen Castle
Rayen Castle is one of the great and impressive mud-brick constructions located in Rayen town, 105 km away from Kerman. It dates back to the Sassanid era and covers a vast area of 2.2 ha. Rayen castle is similar to Bam Citadel and contains hundreds of rooms, bazaar, mosque, public bath, Main Square, and Zurkhaneh (Persian House of Strength).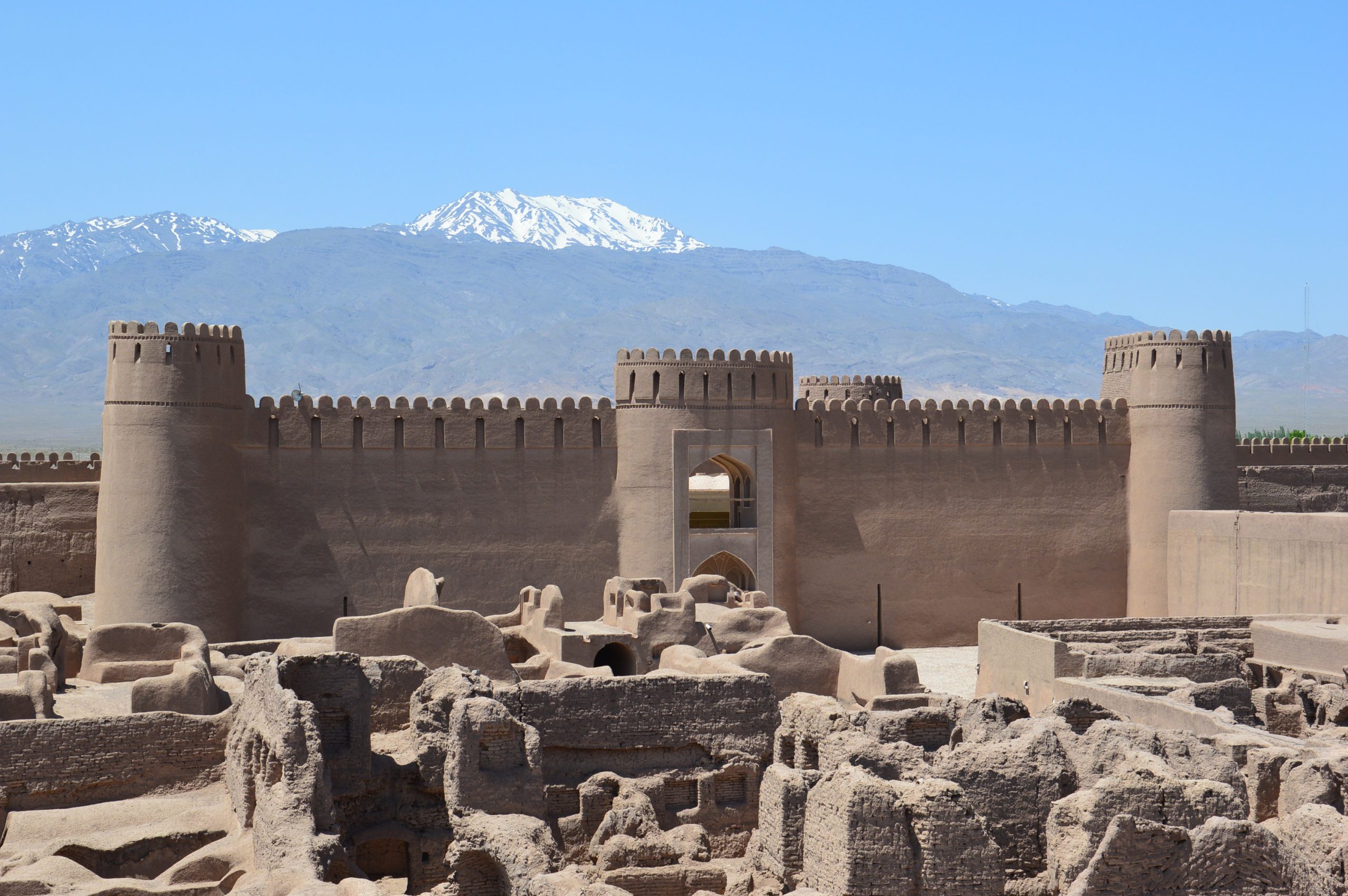 Ganjali Khan Complex
Ganjali Khan Complex is one of the great national monuments of the Safavid era located in the old center of Kerman. This amazing complex was built by the order of Ganjali Khan, the famous governor of Safavid era in Isfahani Style. The complex covers a vast area including square, mosque, school, bazaar, caravanserai, bathhouse, coppersmith bazaar, and mint (Zarrabkhane).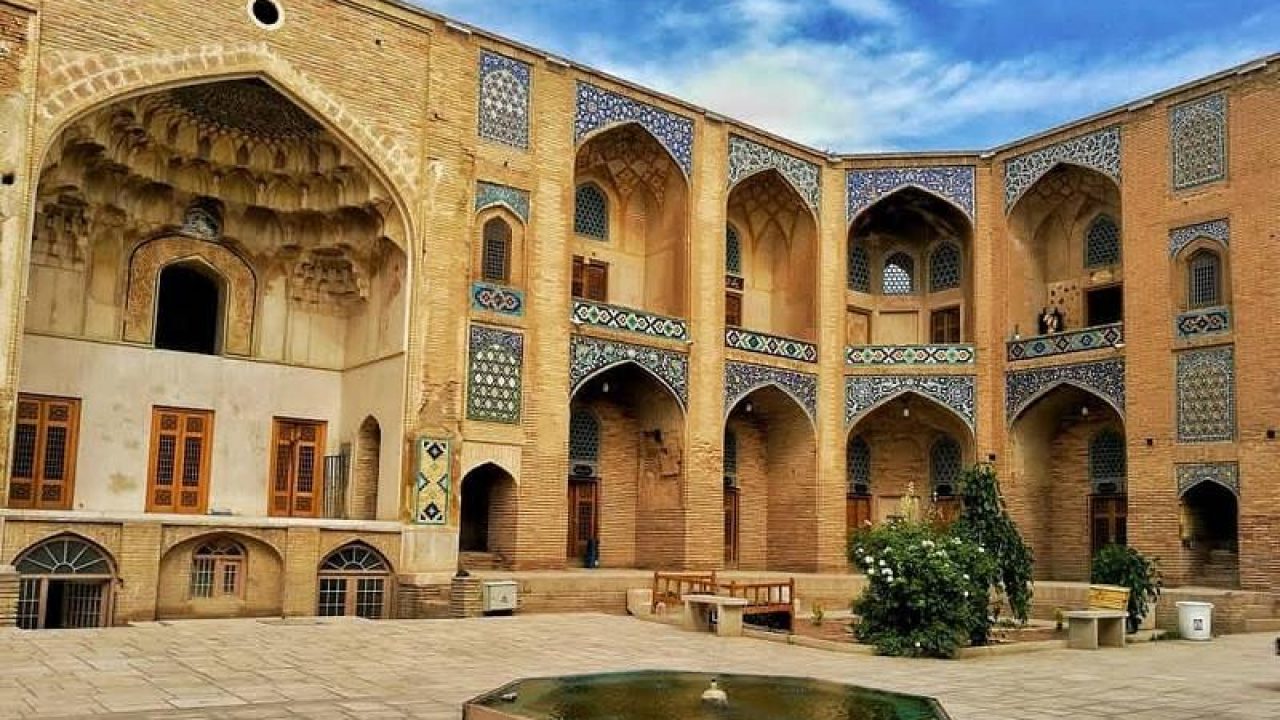 Vakil Bathhouse
Vakil bath house is a traditional and historical bath influenced by the architecture of Zand and Qajar era. Built in 1270 Hijri imitating Ganjali Khan Bath, in Kerman. The interior part is beautifully decorated with amazing ceramics and tile works. Vakil bath house has been transformed into a traditional teahouse which serves tea and delicious local food accompanied by live music.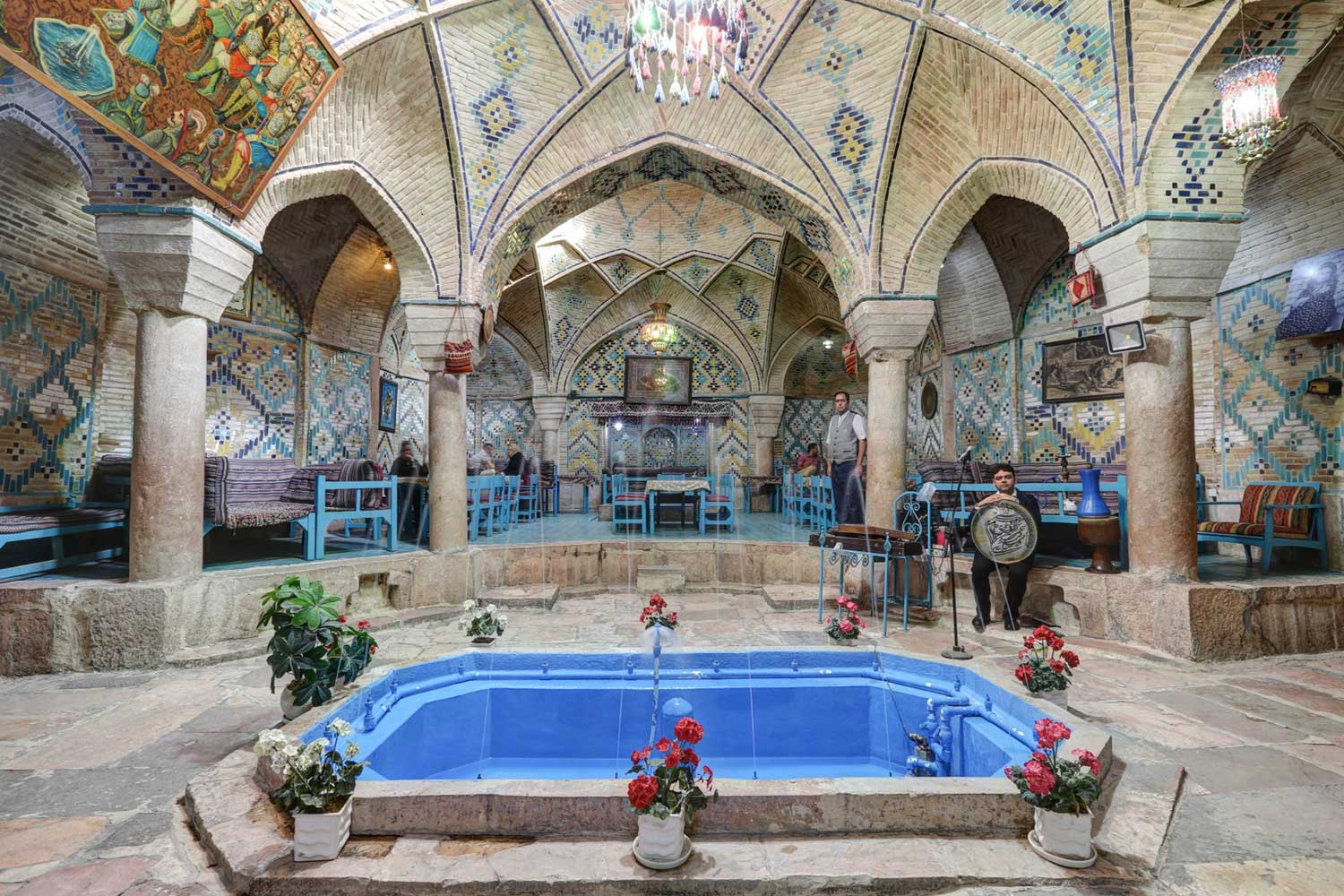 Shah Nematollah Vali Shrine
This fantastic shrine is a pilgrimage site located in Mahan, Kerman province. Shah Nematollah Vali was a renowned Iranian mystic and poet who has an important role in the history of Iran. After his death, the King of India, who was his devoted follower, ordered the building of a dome and shrine in 1436. The structure and decorations of the shrine is really eye-catching.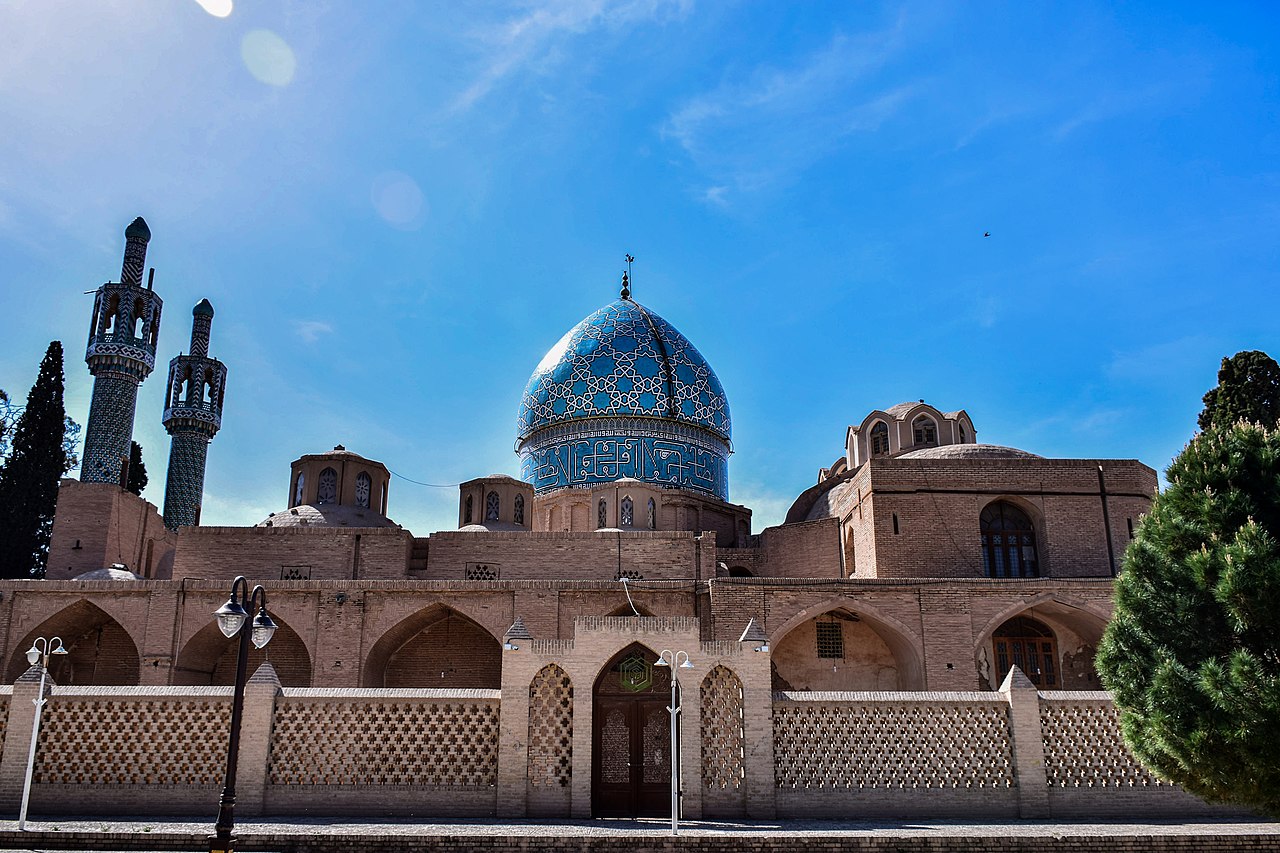 Imam Mosque (Malek Mosque)
Imam Mosque, also known as Malek Mosque, is the oldest and largest mosque in Kerman located in the north-east of the city. Dating back to Seljuk area, Malek Touran Shah I in the 5th century AH has ordered to build this mosque. This great Seljuk structure includes a vast courtyard, four different portals and four "Shabestan".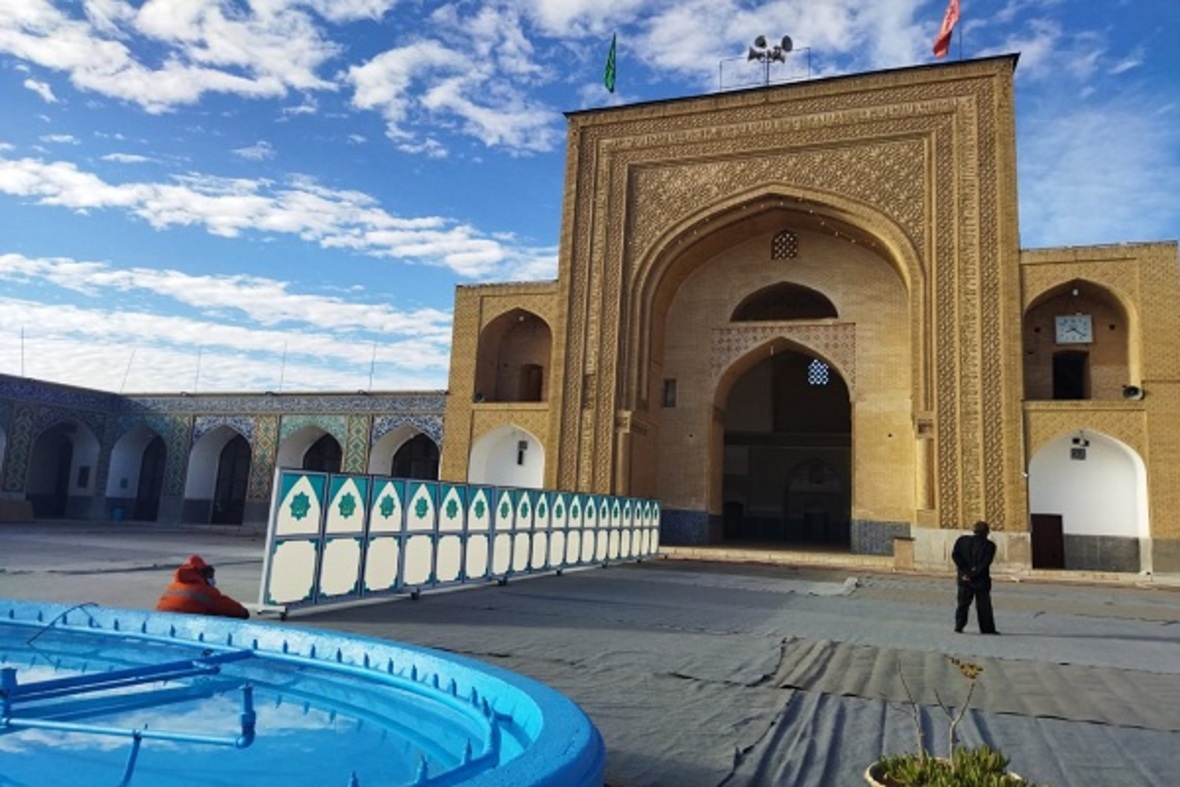 Gonbad-e Jabalieh
In the east of Kerman, there is a strong and large dome of stone. It is an admirable sample of Iranian architecture. This octagonal dome is completely made of stone and includes 8 doors in its eight sides that recently have been closed by stones. The dome  referred to Seljuk rulers, but its architectural style is Sassanid.
Fath Abad Garden
Fath Abad Garden or BiglarBeigi Garden is one of the beautiful gardens of Iran. It dates back to the Qajar dynasty. This garden was the model for Shahzadeh Garden, but people has neglected it for a long time. That's why for many years it remained in the shadow of Shahzadeh Mahan Garden.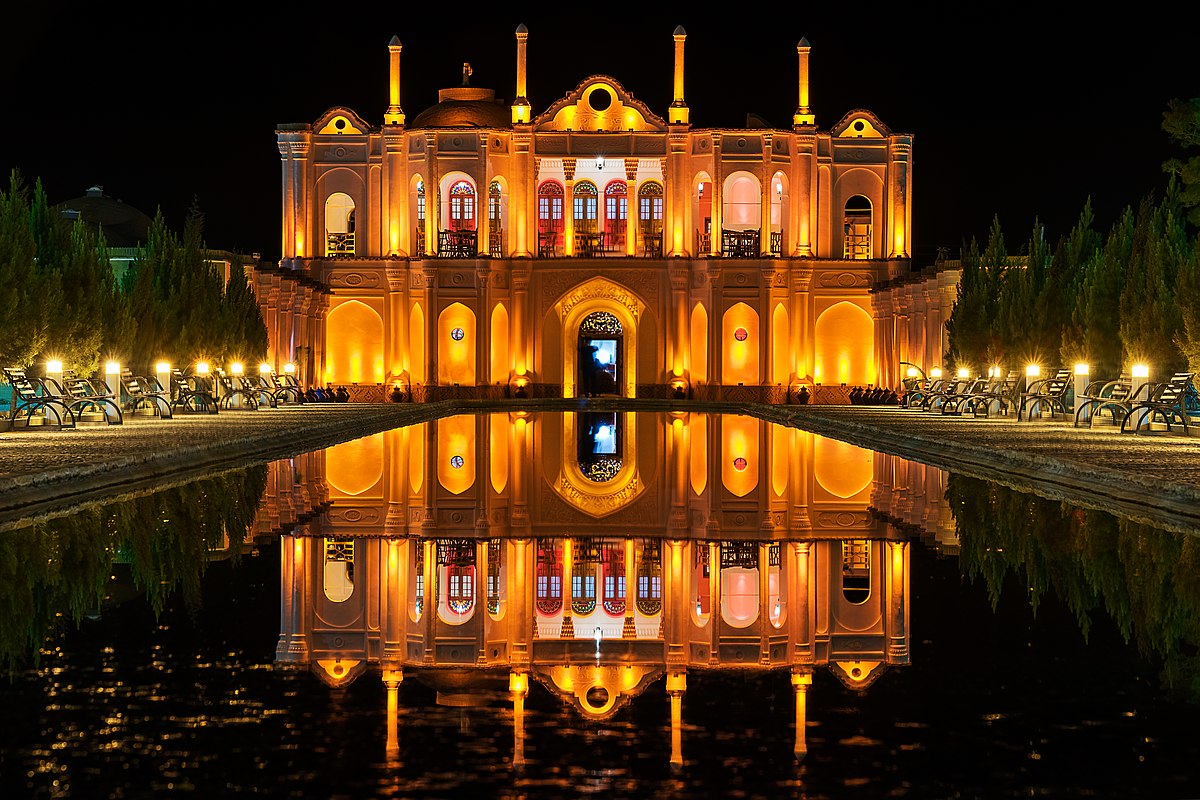 Moayedi Ice House
Since drinking water was the essential need of people living in the desert, they had always built different structures to preserve water. Moayedi Ice House is one of the oldest structures dating back to Safavid era in Kerman. It resembles a huge dome in circular structure and having mud bricks and clay.  Filled with the water in winter, and when the water froze, the ices lead to the ice-house for using in summer.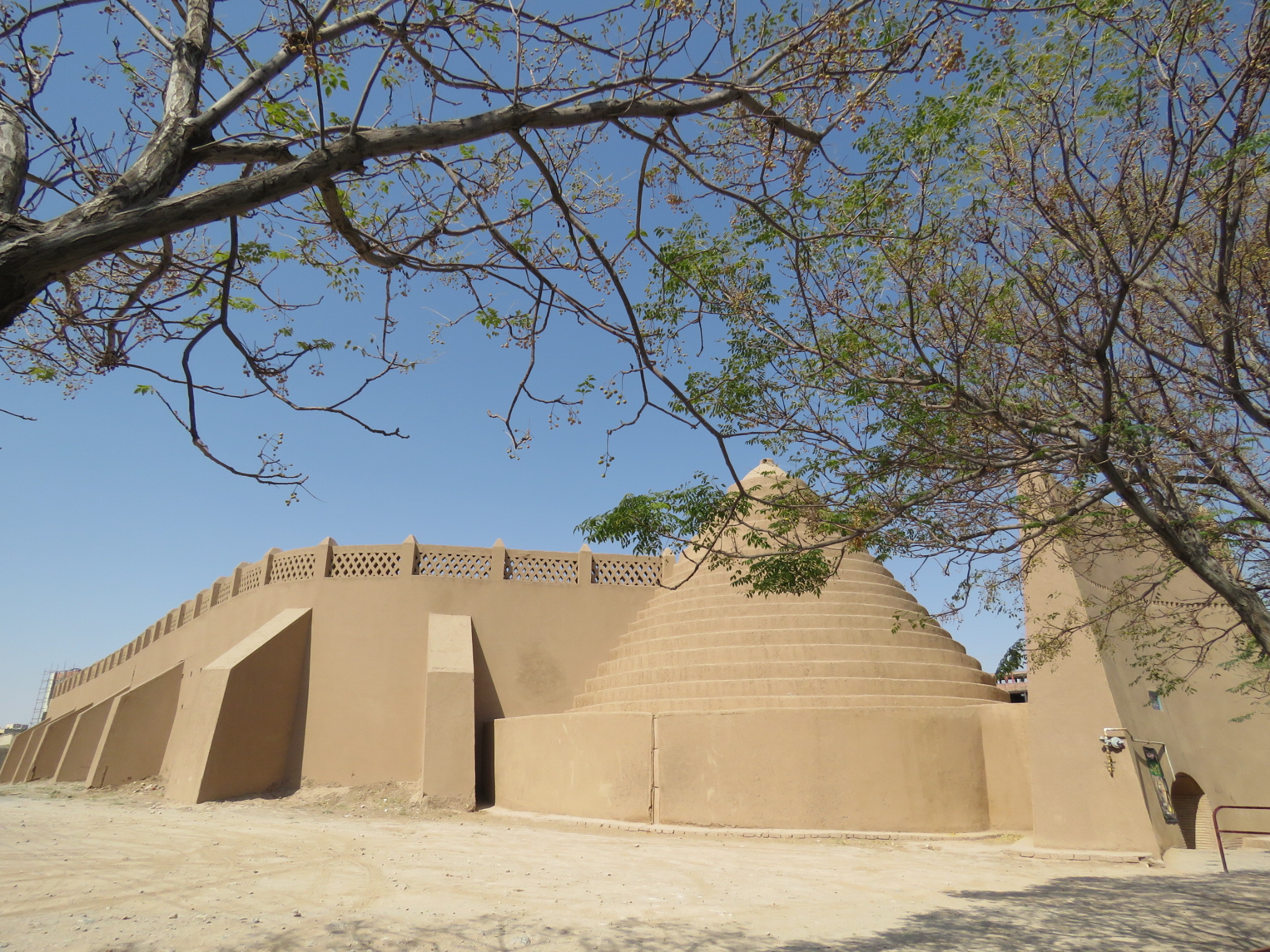 Gandom-e Beryan
Gandom-e Beryan or Rig-e Soukhteh is the hottest area of the world, located 80 km north of Shahdad city in Lut desert in Kerman Province. It includes a range of hills covered with volcanic lava. Due to the flow of Shoor River (salty river) and the intensity of the air, there are no alive creature even bacteria.