"We want butterflies return to our city."
This is the slogan of the first bike sharing company in Iran; named "BDOOD", pronounced "/bi:/ / dʊd/", literally means "smokeless". The company starts its work by the aim of enhancing the urban transport system and promoting a healthier lifestyle.
It was founded in the central and north-west regions of Tehran in 2017, and 2 years later in Shiraz. It is planned to be launched in other cities of Iran soon.
The concept of sharing bicycles is to borrow a bike with a little amount of money and use it to reach your destination, then you can leave it there for other users. BDOOD bicycles are equipped with a Bluetooth and Internet connection, and has a QR code on the frame, which the customer scans to unlock the bike.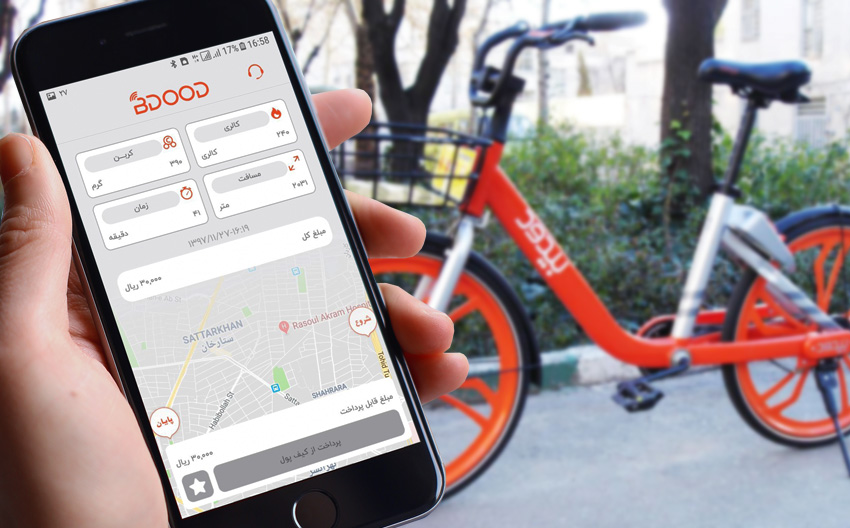 How to use BDOOD?
First, you need to download the BDOOD application from bdood.ir and install it on your smartphone whether android or IOS phones. The application is similar to "Mobike", the world's famous bike-sharing app.
After installing, you should register and pay an amount in advance in order to use its services. You can ask for a refund at any time you desire. Users can rent the bicycles at a minimum rate of 15,000IRR per 30 minutes of usage.
You can easily use the map of the application to find the nearest bike, scan the QR Code on the bike with the app to unlock the bike and enjoy your short trip. When you reach the desired point, get off the bike and manually lock it and push "end of trip" on BDOOD application.
It is interesting to know that this application shows some statistics like the distance you rode, amount of calories that you burnt and the amount of carbon dioxide you would produce if you had driven a car instead. Moreover, if your bike breaks down on the way, there are specialists who are ready to help you.