Abyaneh is a marvelous ancient village located at the foothill of Karkas Mountain and 70 km southeast of Kashan in Isfahan province. It is estimated to be a 1500-year-old village. Its monuments date back to Sassanid, Seljuk, Safavid and Qajar periods. This is why Abyaneh is on the Tentative List of UNESCO World Heritage Center.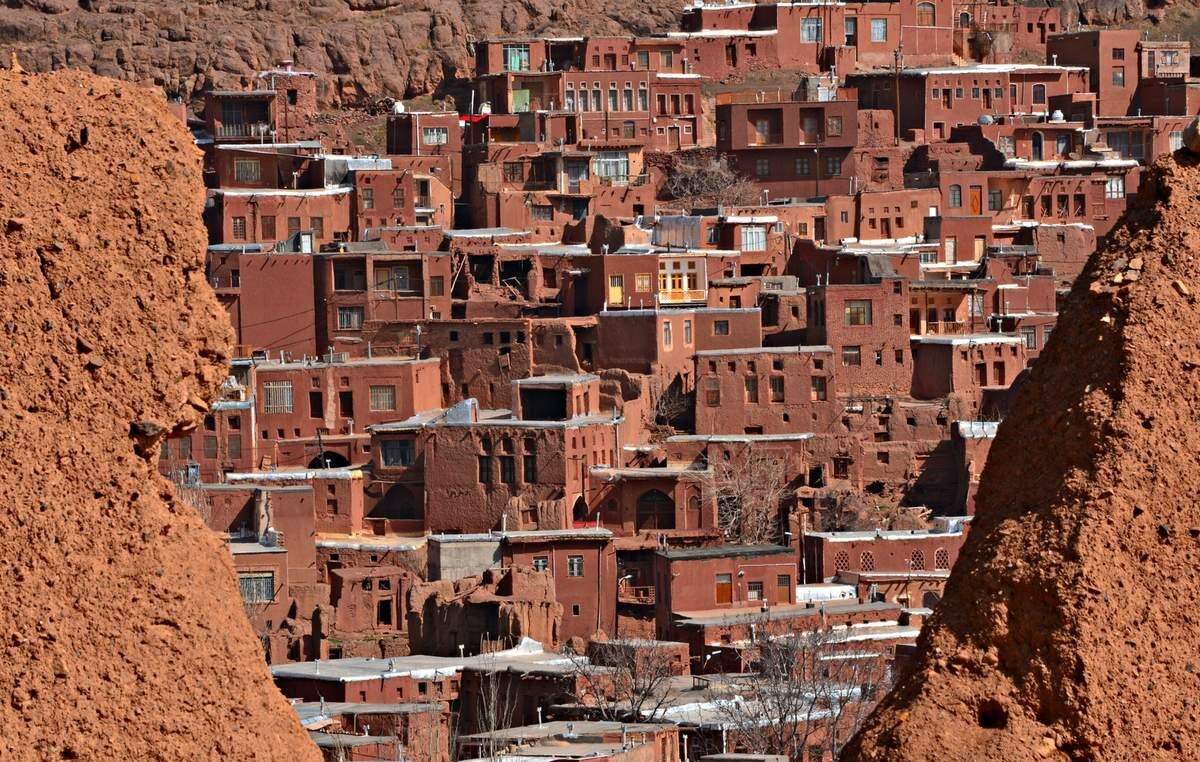 The unique characteristic of Abyaneh is its architecture. Lovely village with red stair-shape houses which is the third touristic village of Iran after Masouleh and Kandovan. Moreover, People of Abyaneh call the village as Viuna, meaning a place filled with willow trees.
Abyaneh is famous for its reddish hue clay containing iron oxide, that's why some people called it the Red Village. The red houses of the village with its lattice windows and wooden balconies have been built in the ancient architectural style. it is similar to Masouleh village. The roofs of some houses are used to serve as the courtyard for other houses higher up on the slope. As well, the structure of the village's houses is in Spiral Shape and there is no blind alley.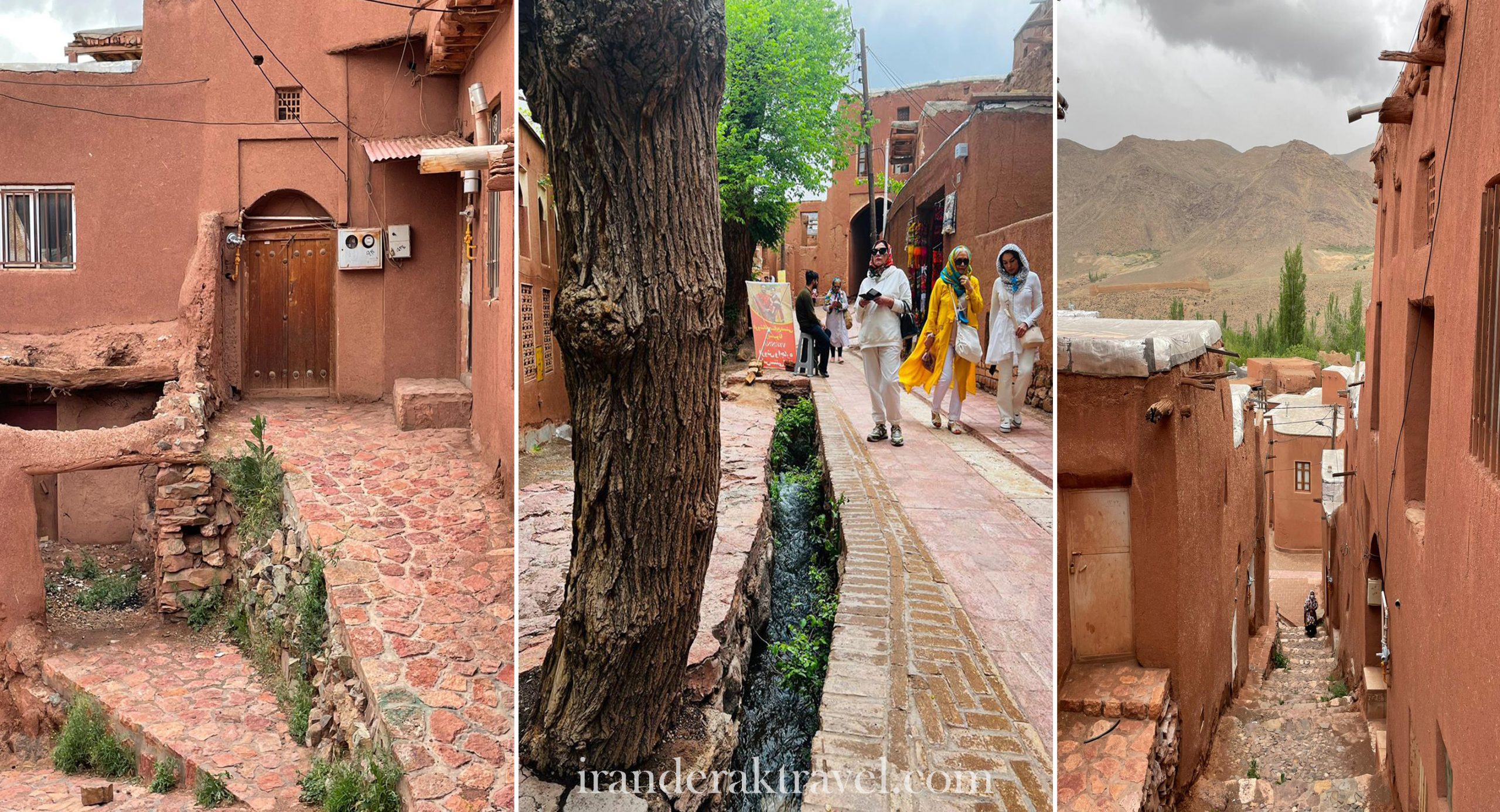 What features are interesting about Abyaneh?
The people of Abyaneh have strongly conserved its culture, language, architecture, costume and traditional style over the years. Elderly people of the village still speak Middle Persian. It was the language of Sassanid Persia that disappeared many centuries ago.
Most women wear colorful clothes and large white scarfs with red flowers which cover their shoulders. While most men wear black vests and wide trousers. In winter, women add a velvet vest to their outfit. This unique way of dressing is the fantastic attraction of Abyaneh.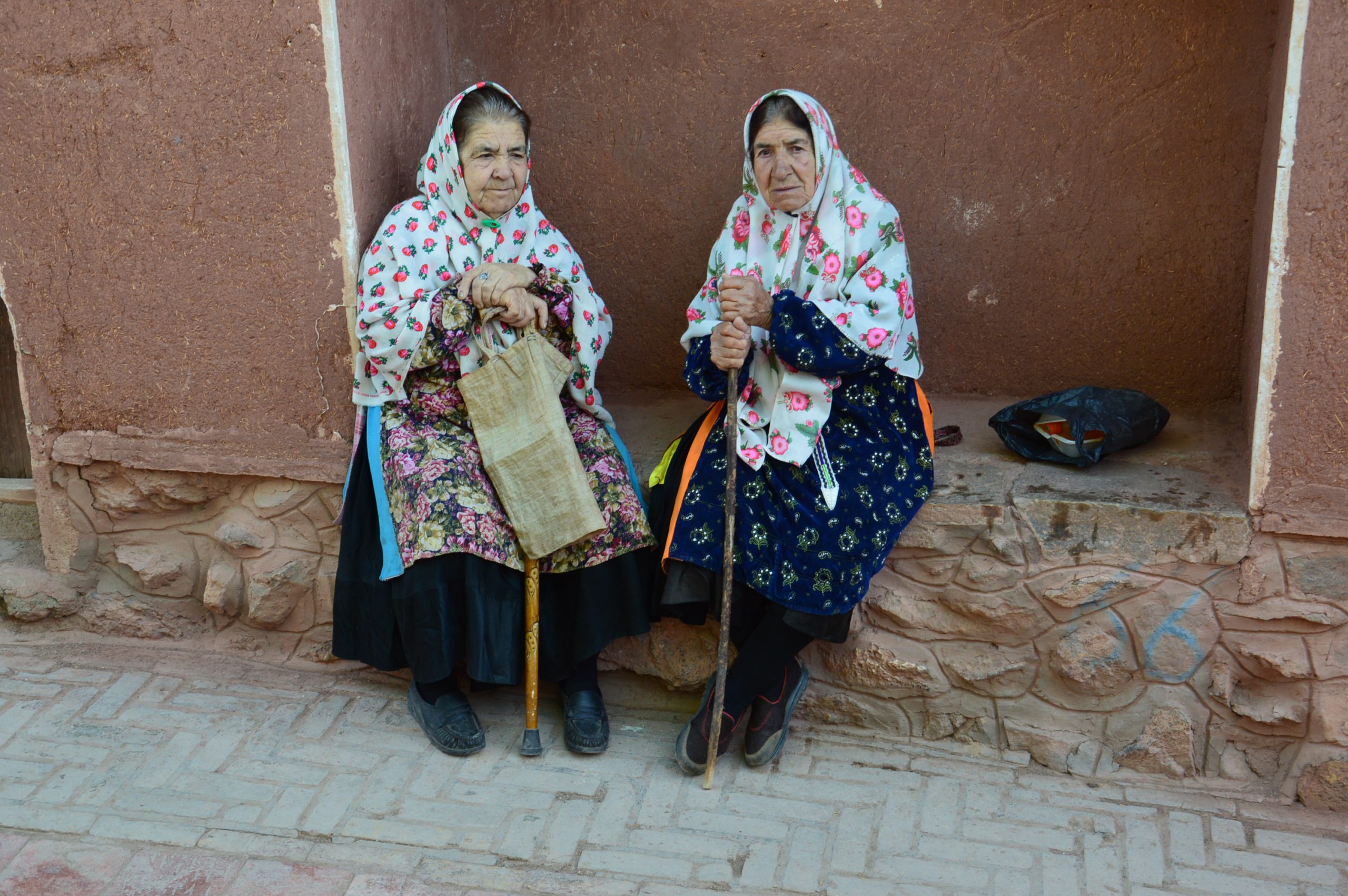 Another interesting point about Abyaneh that can attract your attention is the doors!
Most of the doors have two knockers; the round-shaped door knockers for females, and the long shaped door knockers for male. These two door knockers have different sounds, it gives a clue to the owner whether a male or a female knocks on the door.
As a result, if the house owner is a woman, she will understand the gender of the guest. She will prepare to wear a hijab if a male is behind the door. Also you can see Quranic verses or poems and sometimes names of the owners on top of the doors as a great design.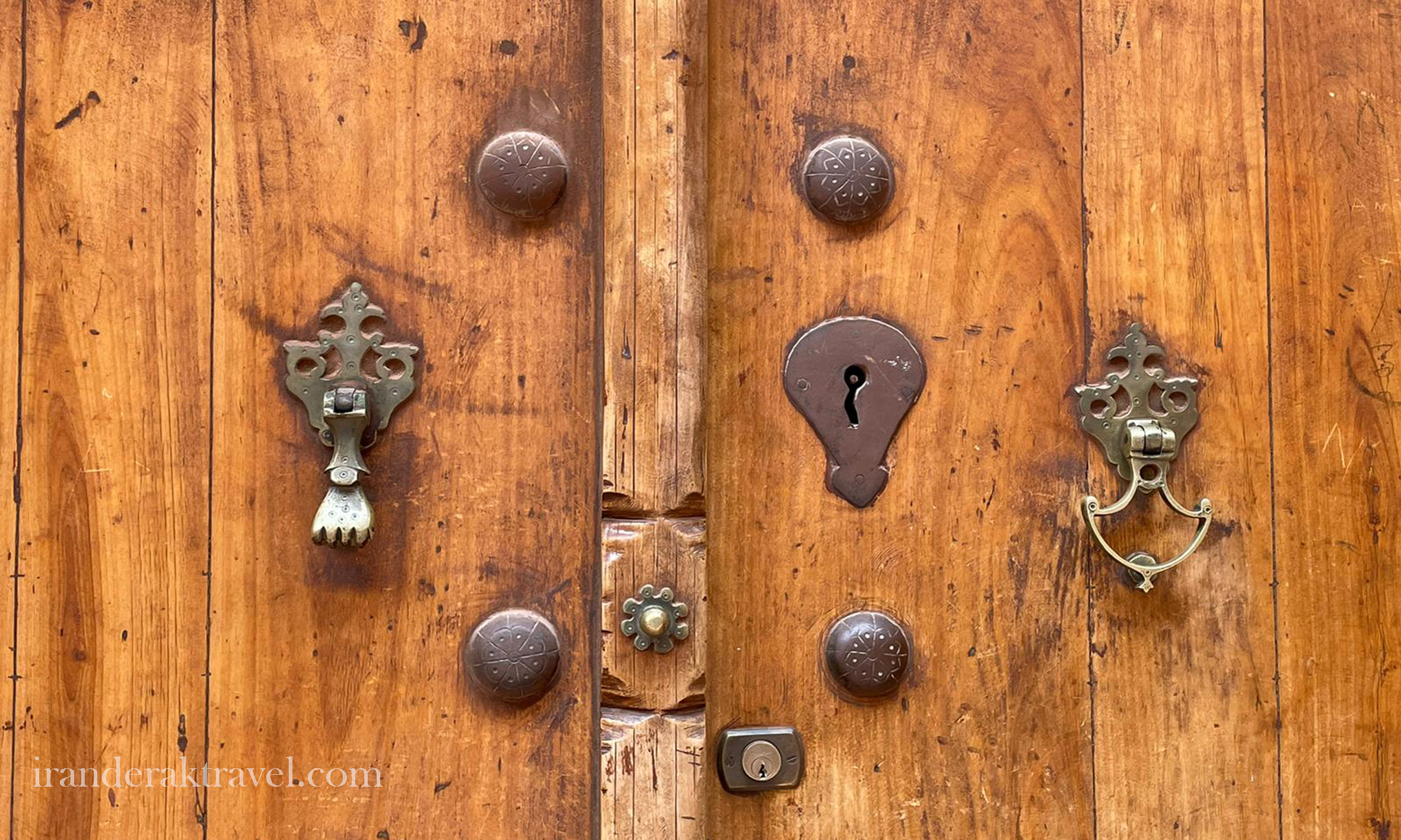 What is the best time for visiting Abyaneh?
Spring and autumn would be the best seasons for visiting Abyaneh, since this village is located in a hot and dry area. However, the best month will be May. Because the nature is stunning and the Rose water festival is going on. You can also attend Rose water Tour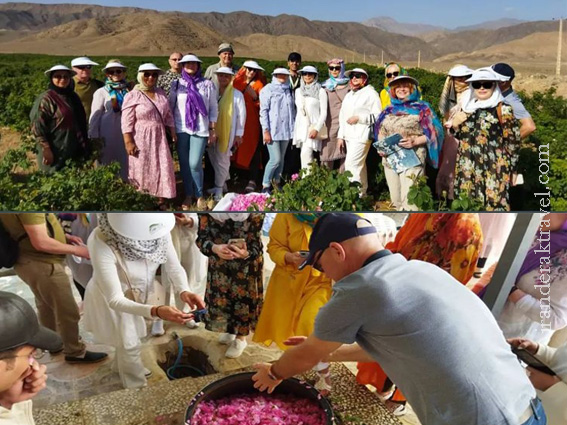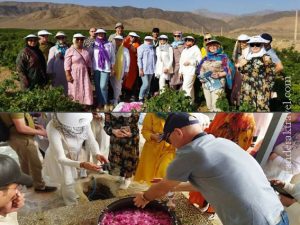 Where is Abyaneh?
Abyaneh is easily accessible both from Kashan and Isfahan. It is 177 km away from Isfahan and 88 km away from Kashan.
What are the top attractions?
The whole village is attractive and admirable, however, you can also visit Jameh Mosque, Zoroastrian fire temple, Abyaneh Castle, Hinza (Anahita) Temple.
Jameh Mosque is one of the oldest monuments of Abyaneh which dates back to the 11th century. The captivating features of the mosque are the wood carvings and the famous walnut-wood Mihrab from the Saljukian period.
What to buy as souvenirs?
You can buy handicrafts like Giveh, wall decorative pendants, traditional clothes, sneakers, Silver ornaments or yummy dried fruits and fruit leather in Abyaneh village.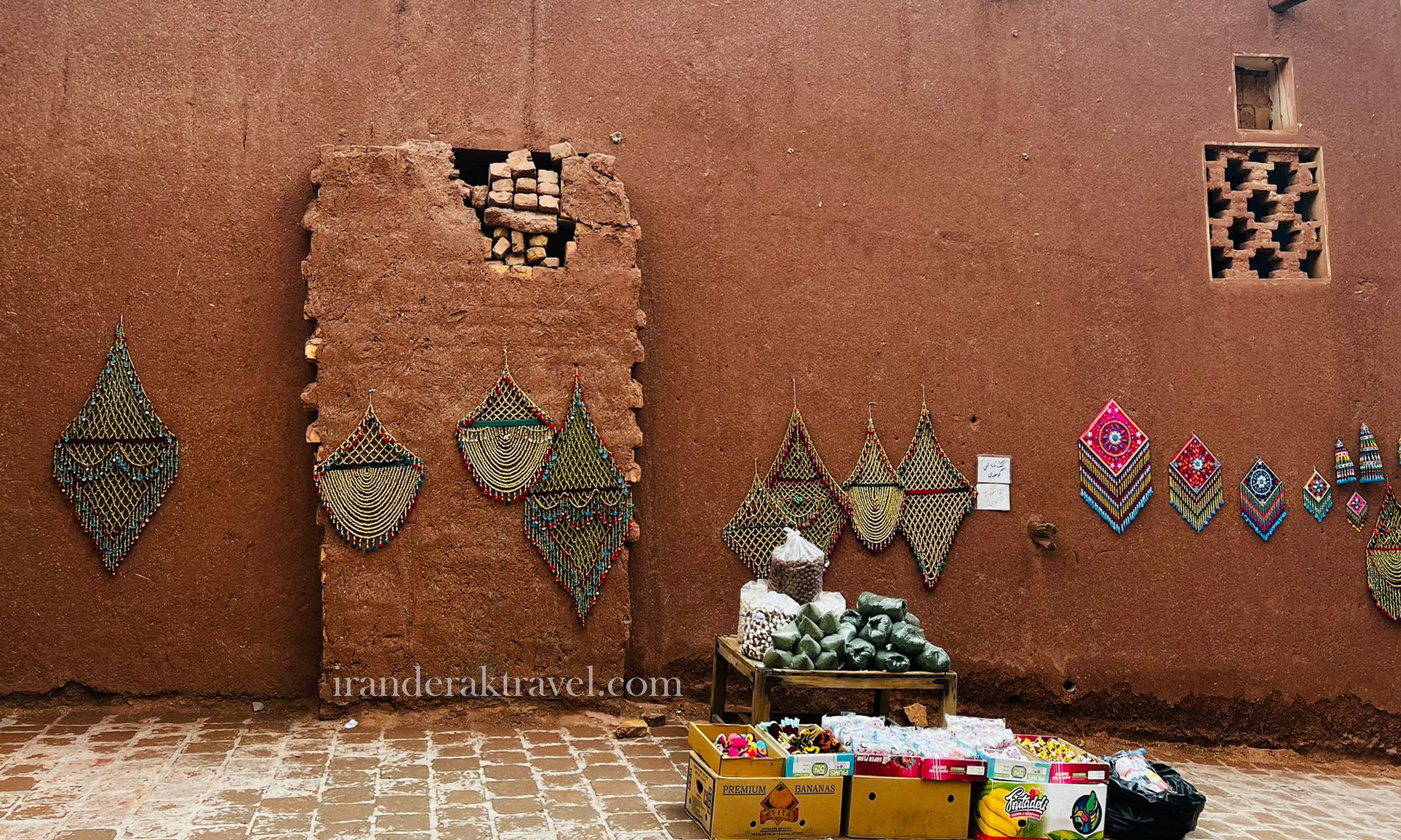 Where to Eat?
Try delicious meals such as Qelyeh, Qormeh, Gipa, Karvani during your stay in Abyaneh. The best restaurants are Viuna Restaurant Hotel, Domiloon Traditional Restaurant, or Viunj Restaurant.
Where to Stay?
Abyaneh has two 3-star hotels, Viuna Hotel and Abyaneh Hotel. There are also traditional houses to reserve.